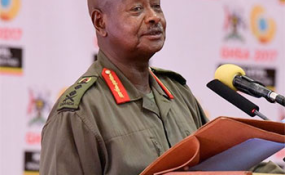 Photo: The Observer
By IAN KATUSIIME, FLAVIA NASSAKA
Kampala — With opposition politicians currently traversing the country chanting 'Togikwatako'- the brand of the resistance to the constitutional amendment aimed at removing the presidential age cap of 75, the campaign appears to have engulfed the nation.
Ibrahim Semujju Nganda, the Opposition Chief Whip in parliament and MP for Kiira Municipality, is excited about crowds in NRM strongholds that are turning out in support of the "red ribbon" campaign of the anti-constitution amendment camp. He says it helps to highlight the campaign as it is not just opposition MPs against Museveni's overstay in power.
He has since branded himself in Togikwatako colours donning a red jacket, cap, or suit whenever he is in parliament or addressing crowds in his constituency.
"I have never seen Museveni in panic mode like he is now," he told The Independent, "There is nothing that has ever divided the NRM like this."
He says panic is the reason the president is picking fights with Kyaddondo East legislator Robert Kyagulanyi alias Bobi Wine.
"He is the face of the new wave of youthful politicians who appeal more to the majority youthful electorate," Ssemujju says, "the Museveni camp is panicking because he has realised that his message of fighting in Luweero to bring peace has since become obsolete and a new generation of politicians - the youth have taken over.
"Even the elderly are realising that the 1986 agent of stability is now becoming a threat to that stability," Ssemujju says.
He adds: "Togikwatako is a campaign about the future; it teaches Museveni one lesson: that if he doesn't allow a peaceful transition we will all be victims, but most importantly he will still leave power."
Semujju who also took part in Walk-to-Work protests says Togikwatako has a lesson for the opposition too- "that ideology is bigger than presenting individual faces". He says this is the first unpartisan demonstration and has achieved results even at the basic level of seeing religious leaders and non-governmental organisations joining in the struggle.
The opposition appears to have won the battle of the campaign stump, but it may amount to nothing. In the end, the winner of the Togikwatako versus the Tugikwateko battle will be decided by MPs in parliament where Museveni has the numbers. But can the opposition wring something out of the national consciousness that Togikwatako has aroused in the 2021 campaign?
"If the opposition was serious, we would go to the 2021 polls under the Togikwatako umbrella" DP Vice President Fred Mukasa Mbidde told The Independent on Nov.03. He said even if the constitution is eventually amended, the protests have already achieved 90% of its impact in exposing what the people's view is on Museveni's overstay in power.
Mbidde who boasts of being the brain behind the campaign says unlike Walk-to-Work that was cadre-based, this idea was conceived on achieving a national objective and was sold to everyone right from the grassroots. He says he benchmarked the idea of this campaign on Rwanda's campaign to remove presidential term limits where they involved almost everyone.
"The Walk-to-Work approach was mediocre and simple. Security operatives knew who to arrest and where they are. If you look for the face of Togikwatako, you will not point out anyone," he says.
Enter Togikwatako
Mbidde's opposition Democratic Party (DP) coined the slogan, 'K'ogikwatako' literally meaning 'If you dare touch it'. It didn't really make sense for many in August when it was launched as a campaign phrase by DP as they protested against the move to amend article 102(b) of the constitution to remove presidential age limits.
But on Sept.21 when some MPs turned up for plenary with their heads wrapped in red bandanas, caps and ribbons as an initiative of a small party of only 15 flag bearers in a 426 member-strong parliament, they gained instant attention.
Then K'ogikwatako changed to Togikwatako - 'Don't touch it' and has since taken every one by storm including President Museveni who seemed cagey at first. Mbidde says what he describes as unity of purpose is "what has overwhelmed the President".
Mbidde appears to be referring to incidents like when Masaka Municipality MP Mathias Mpuuga formed Activists for Change (A4C) to coordinate the Walk-to-Work protests and police swooped on it with force. Even though Kizza Besigye was the face of the riots as he walked from his home every Monday and Thursday, his actions inspired only pockets of resistance in and around Kampala.
This time, Mbidde says, Togikwatako has forced Museveni, out of desperation, to order police and the army to storm parliament, something that many see as a political blunder for a person who postures as being respectful to the principles of democracy.
To Mbidde this desperation rages on as the NRM party was never prepared for this kind of response given that the opposition has hitherto been struggling to find supporters for their protests. Now, even as the ruling party is trying to patch up the holes, it is meeting not just resistance but intimidation as voters threaten to end political careers of some.
Like Mbidde, observers say because NRM was caught unawares, it is now divided on how exactly to counter Togikwatako. Their counter-campaign (Tugikwateko) has left some NRM MPs and ministers in awkward situations.
They started by calling rallies to consult voters. But when crowds started insisting on an impromptu hand poll on the issue - and the Togikwato side often won, the NRM MPs ditched rallies. Instead, they started preaching to their already converted supporters in small town hall-style meetings.
Even then, some NRM MPs say they remain torn between risking their political careers by backing Museveni and saving them by doing what their constituencies want.
Mbidde, who is also a member of the East African Legislative Assembly (EALA) and is often charitable in dealing with the ruling party, says the opposition should learn that it is not their business to cause change in this country because that "is the business of the whole Uganda because the regime's incompetence affects everyone irrespective of their political affiliations".
Togikwatako versus Walk-to-Work
As Togikwatako gains steam, pundits are assessing its significance. Many are drawing parallels with past anti-Museveni protests; especially Walk-to-Work.
In an interesting paradox in Uganda, the image of President Museveni as a strongman seems to have grown in tandem with the strength of opposition to his rule in the last decade. In the first twenty years after Museveni captured power with his National Resistance Army (NRA) from 1986-2006, there seems to have been no resistance towards Museveni's rule manifested in street protests.
In spite of scandals that caused national outrage then like the junk helicopters purchase in the late 1990s, UPDF Ghost soldiers, Global Fund embezzlement, and Temangalo land sale to NSSF, the anger never really crystallised into protests.
2006-2011 saw the first manifestation of public anger in protests when riots broke out in Kampala against the proposed give away of Mabira Forest to investors by Museveni in 2007 and the riots in Kampala by angry Baganda youths when the police and army barred Kabaka Ronald Mutebi from going to Kayunga in 2009.
But all these protests did not last beyond three days. The Kayunga riots which seemed more potent ended immediately after the army deployed on the streets.
Only the Walk-to-Work protests, which started in March 2011 after the general elections, tested the mettle of the NRM regime when they turned out to be the most organised wave of protests the regime has faced.
Whereas many protests against Museveni have been driven by other issues; anger over rising cost of food and fuel as inflation hit 30%, in the case of Walk-to-Work, the Togikwatako appears to be purely pointed against Museveni. Its supporters don't want the proposed amendment because it extends the 73-year-old leader's presidency. Togikwatako also seems to be spread more nationally and has united the opposition. Francis Mwijukye, the opposition FDC MP for Buhweju County says Togikwatako should not be analysed separately from Walk-to-Work.
He has been a lynchpin of both and in October posted a photo of himself on Facebook wearing the famous red ribbon while attending an Inter Parliamentary Union (IPU) assembly in St Petersburg, Russia. He says the popularity of Togikwatako has forced many ruling party MPs who initially supported the amendment to switch sides.
"We forced Museveni to come out and address the Age Limit Bill which he was pretending not to care about; he reached the point of sending his army into Parliament.
"Togikwatako has been embraced by people from all walks of life; academia, farmers, the rich, poor, musicians, they are all speaking with the same voice," he says, "When you see all these people speaking up it is because of the spirit of Walk-to-Work."
Walk-to-Work festered for about two years but since then Kampala appears to have become a cauldron of anger, frustration and anxiety as police battles opposition and any semblance of protests in the central business district. To that effect, the government passed a controversial law, the Public Order Management Act (POMA) to contain opposition.
Although Walk-to-Work was largely seen as a Kampala affair, Mwijukye says towns tend to be a springboard for protests. He says Walk-to-Work laid the groundwork for defiance. "People are using the spirit of defiance started by Walk-to-Work to challenge the government. It is why they can afford to tell off the police and boldly say that the police serves them," he told The Independent.
A former aide to Kizza Besigye, Mwijukye endured beatings and some of the most vicious Police crackdowns on the opposition at the height of the Walk-to-Work protests in 2011. In many of the scenes when Besigye was arrested, Mwijukye could be seen physically trying to defend Besigye.
"To merely list the successes of Togikwatako is not to appreciate the earlier setting up of structures of defiance. When you see people wearing red ribbons everywhere, it is because they have been empowered by defiance."
Togikwatako seems to be the more successful campaign with symbols like the red ribbon and the crowds it gathers across the country and Mwijukye acknowledges this.
"It is not opposition versus NRM. This is about those against the amendment versus those who are for it."
He says people have turned out en masse because they realise that since the two-five year presidential term limit was scrapped from the constitution in 2005, the age limit is the only safeguard for a transition from Museveni to another leader.
The Walk-to-Work campaign led to unprecedented police operations in the city and there has been an attempt at similar deployment to quell Togikwatako.
"Our deployment is based on the threat levels anticipated," says Kampala Metropolitan Police Commander Nicholas Mwesigwa. He told The Independent on Nov 3 that since police banned the joint consultations among various MPs, there has not been any disturbance. In reality, police might have been caught flat-footed, with no clear target to clobber this time. Meanwhile, the Togikwatako campaign is already being mooted as a pressure group to take on Museveni if he stands in the 2021 presidential elections.