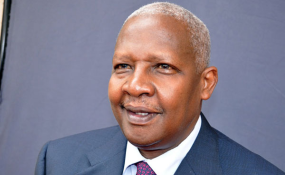 Photo: Daily Monitor
By Haggai Matsiko
Kampala — Days after it emerged that Foreign Affairs Minister Sam Kutesa set up a company in a tax haven, the move continues to be scrutinised.
Apparently, in 2012 Kutesa hired Appleby, a company renowned for creating offshore account for the rich and powerful, to form a company for him in the Seychelles.
Kutesa created two companies; one was named 'Obuyonza Discretionary Trust' and it held shares in the second company called Katonga Investments Ltd.
They were to handle dealings of Entebbe Handling Services (Enhas), the Entebbe ground handling business that he acquired controversially in the 1990s.
Kutesa watched over the administration over Obuyonza Discretionary Trust' and was one of its beneficiaries. His daughter, Ishta, is listed as a beneficial owner and future recipient of money from the Trust.
The deal was recently exposed in the so-called 'Paradise Papers', as a result of a global investigation into the offshore activities of some of the most powerful people and companies in the world. The International Consortium of Investigative Journalists (ICIJ) did it.
Kutesa is one of just four Africans named, including outgoing Liberian president Sirleaf Johnson, former Kenyan minister Sally Kosgei, and Zambian opposition leader Hakainde Hichilema.
According to the BBC, in Appleby lingo, Kutesa would be listed as a Politically Exposed Person or PEP, a label for "someone with a prominent profile - a celebrity of the political, diplomatic, military or judicial worlds - who, through their prominent position or influence, is more susceptible to being involved in bribery or corruption".
By extension, any close family member of a PEP, is also a PEP, according to the BBC.
Kutesa is not just Uganda's Foreign Affairs Minister, he is a former President of the United Nations General Assembly and one of the richest members of President Yoweri Museveni's inner circle.
His former wife, the late Jennifer Kutesa was also a cousin to the president's wife, Janet Museveni and his daughter, Charlotte Nankunda, is married to the president's son Muhoozi Kainerugaba.
While his official roles and blood ties with the first family are significant, it is his past that raises a lot of interest in Kutesa's offshore business dealings.
Kutesa reacts
As part of a periodic review in 2015, Appleby labeled Kutesa's companies a "high risk," given his political role and media reports of alleged corruption and bribery involving him.
But Kutesa told Appleby that the purpose of the trust was to separate his government income "from his personal assets and belongings."
Since being exposed, he has said he sought to avoid taxes, which is not illegal.
"I thought you could avoid, not evade, taxes," he told the ICIJ affiliate in Uganda, the Daily Monitor, "I don't have anything to hide."
But the timing of the move is intriguing none the less, even without suggesting any criminality.
Around the time he set up an offshore facility, Kutesa had just been reinstated as Foreign Affairs Minister after being forced to resign in October 2011 under pressure from parliament for his alleged role in corruption scandals around the 2007 Commonwealth Heads of Government Meeting (Chogm) held in Kampala. Over Shs 200 billion was allegedly stolen. It was also the year when Kutesa's name was forwarded for consideration as UN President to the African Union and UN.
He had also just been cleared by a parliamentary investigation of allegations he had taken oil bribes from Tullow oil.
While tax havens are legal, many companies and individuals that operate there tend to be shrouded in secrecy and engage in opaque business dealings.
ICIJ reports that an internal Appleby document from 2015 reported that Kutesa's company's intended activities were "consultancy, investments, trading and airport services in Uganda."
In 2015, however, Appleby noted that the companies connected to the trust were dormant and that "it seems that nothing much is being done."
Enhas dealings
The money to the trust was supposed to come from Enhas, a major ground handling service at Entebbe International Airport which has existed since 1995 with Kutesa as a major shareholder.
Kutesa gained ownership of Enhas in a controversial and complex process that also got him into trouble.
It started in 1993, when civil Aviation Authority liberalised ground handling operations at Entebbe Airport. It terminated Uganda Airlines Corporation (UAC) and a consortium called Enhas was formed in 1995 and granted exclusive ground handling rights.
The UAC took 50% shares in Enhas, Sabena Airlines 5 percent and workers of CAA and UAC also got 5%. The remaining 40% went to two companies--Effortes, a subsidiary of Caleb international owned by President Museveni's brother, Caleb Akandwanaho aka Salim Saleh and Global Airlink owned by Kutesa.
Then two years later when UAC was obliged to sell its shares in Enhas to pay its debts, Effortes and Enhas; meaning Saleh and Kutesa, acquired them.
It emerged that Kutesa, who at the time was the head of Global Airlinks and also the board chairman of Enhas, used an accounting firm he was close to undervalue the shares, which he later acquired with Saleh. A clear indication that UAC's shares were undervalued emerged when a year later Saleh, who had acquired 45 percent shares of UAC for $3.75 million was looking to sell at $9.45 million.
A 1998 parliamentary committee investigation concluded the process had been "manipulated and taken advantage of by a few politically powerful people who sacrifice the people's interests." Parliament censored Kutesa in 1999. But Museveni re-appointed him after the 2001 elections.