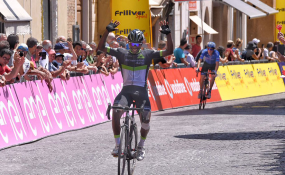 Photo: New Times
By Peter Kamasa
Rwandan Joseph Areruya, riding for South Africa-based UCI Continental Team Dimension Data for Qhubeka, won stage one of the 2017 Tour du Rwanda, from Kigali to Huye District after covering the 120.3km distance in 3 hours, 12 minutes and 12 seconds.
With victory, Areruya took the race leader's yellow jersey from his compatriot Jean Bosco Nsengimana, who is riding for Team Rwanda. Last year, Areruya won stage four, also known as 'Nyungwe Challenge' from Rusizi to Huye.
Areruya, who finished in fourth place last year in the general classification behind winner Valens Ndayisenga, will go into Tuesday's second stage, Nyanza- Rubavu (180km), with a lead of 1 minute and 20 seconds.
The 21-year-old, helped by his teammates Samuel Mugisha and Eyob Mektel, made a sole attack from Rubona at ISAR, about 20km to Huye town, and never looked back until the finish line.
He finished ahead of teammate Kent Main, who clocked 3h 13' 46", followed by Eritrea National Team's Natnael Mebrahtom (3h13'48"), Kenyan Suleiman Kangagi, who rides for Germany Team Bike Aid came in fourth place (3h13'48") while Tesfom Okubamarian of Eritrea finished 5th with 3h 13' 48.
On Tuesday riders will ride from Nyanza District in Southern Province to Rubavu in the west covering a total distance of 180.6km.
Areruya leads the general classification with 3hrs, 16 minutes and six seconds and Nsengimana, who won the Prologue on Sunday, is second with 3hrs, 17 minutes and 34 seconds while reigning champion Valens Ndayisenga, riding for Austria's Tirol Cycling Team, is third with 3hrs, 17 minutes and 36 seconds.
Areruya is aiming to win the 9th edition of the annual event and became the third Rwandan rider to do so after Ndayisenga, who won it twice in 2014 and 2016, and Nsengimana, who won the 2015 edition.
"Rwanda is my home and I am happy to win the stage and yellow jersey. My team tried to escape early on but Team Rwanda just kept coming along, and at 25km to the finishing line, I decided to attack and I never looked back," the former Les Amis Sportifs de Rwamagana rider, said.
He added, "I know the routes very well, and I love racing in these hills but I have to keep my head up and I hope my teammates can give everything for the rest of the tour."
Tuesday
Stage 2: Nyanza- Rubavu 180km+ 6 categorized climbs
Stage One: Kigali-Huye
1. Joseph Areruya (Dimension Data) 3h12'12"
2. Kent Main (Dimension Data) 3h13'46"
3. Natnael Mebrahtom (Eritrea) 3h13'48"
4. Suleiman Kangagi (Bike Aid) 3h13'48"
5. Tesfom Okubamarian (Eritrea) 3h13'48"
General Classification
1. Joseph Areruya (Dimension Data) 3h 16' 6"
2. Jean Bosco Nsengimana (Team Rwanda) 3h 17' 34"
3. Valens Ndayisenga (Tirol Cycling Team) 3h 17' 36"
4. De Bond Stefan (Dimension Data) 3h 17' 40"
5. Suleiman Kangagi (Bike Aid) 3h 17' 43"
Other Rwandans in top ten
7. Patrick Byukusenge (Team Rwanda) 3h 17' 44"
8. Samuel Mugisha (Dimension Data) 3h 17' 45"
9. Jean Claude Uwizeye (Team Rwanda) 3h 17' 45"