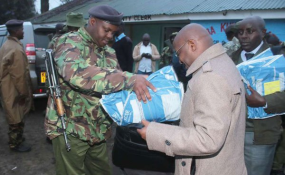 Photo: Ayub Muiyuro/Daily Nation
By Rushdie Oudia
Kenya National Examinations Council (Knec) Chairman George Magoha has warned rogue teachers and cartels leaking examinations, saying they risk being punished severely.
Prof Magoha said that there are some exam centre managers and teachers who have been opening test papers before the scheduled time to leak the examinations.
He revealed that they are closely and secretly monitoring some cases since last week with the latest being a private school in Gilgil.
"We have the capacity to know where the paper was meant to be. If you try sending an early exposure to Mandera we will know where it was opened," said Prof Magoha.
TECHNOLOGY
He added: "We are watching many cases in the back room. With modern technology we know what is happening. The cases we have found so far are however insignificant in terms of impact," said Prof Magoha.
He was speaking Monday morning at Sawagongo High School in Siaya County where a staff member, Mr Jerry Ndikolo, was arrested and charged in court with leakage of a Chemistry paper.
Mr Ndikolo had allegedly sent some chemistry questions to Mr David Wafula, the Principal of St Theresa's Bikeke Secondary School in Trans Nzoia, who later forwarded them to another principal in Elgeyo Marakwet.
They were arraigned in court last Thursday.
MYOPIC
"Why should you open a paper when the candidate is doing one that is ending at 10 o'clock? The window period is just half an hour. What is the child going to do with the attempted leak? It is stupid and myopic," said Prof Magoha.
At the school, Prof Magoha asked the principal, Mr Edward Wachilonga, whether there were other teachers in the institution during the examinations.
Mr Wachilonga explained that he was the only one around, assisted by his deputy.
"The incident involving my staff did not happen here. We ensured that the school is guarded not to give any room for examination irregularities," said Mr Wachilonga.
IMPROMPTU VISIT
Prof Magoha's impromptu visit to the school was dramatic after he insisted that the supervisor of the school be sent packing and be replaced with another person after he left examination papers unattended.
The Knec boss said there was need to have a serious person take charge of the examinations.
He warned that leaving examination materials unattended could provide an opportunity for any other person to interfere with them.
"We must get somebody here tomorrow to replace this supervisor. He has not taken his duties seriously. Get another person and give me his details," he said.
Prof Magoha said the government has the capacity to ensure examination scripts are guarded from the container to the classroom and back, insisting that each school has one officer guarding the exams right from the container for easier responsibility.