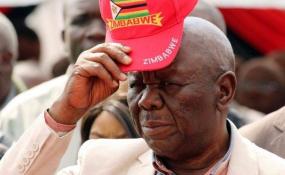 Photo: New Zimbabwe
Zimbabwean ailing opposition leader Morgan Tsvangirai has been urged to pass the baton to a "young and focused candidate" to contest the forthcoming elections, says a report.
Tsvangirai announced last year that he had been diagnosed with cancer of the colon and had begun chemotherapy.
He was again flown to South Africa last month for medical attention just a few weeks after his last trip.
The veteran opposition leader has been endorsed by the alliance of opposition parties to stand against Mugabe in the 2018 general elections.
But, according to Daily News, a former Zanu-PF and now a Zimbabwe Peoples First top official Kudakwashe Bhasikiti has suggested that the longtime President Mugabe rival passes the Movement for Democratic Change leadership baton to his deputy Nelson Chamisa.
Bhasikiti believed that the energetic MDC vice president was capable of "galvanising and uniting" the fractured opposition parties during the 2018 presidential elections.
"If ... Tsvangirai is overwhelmed by current medical procedures let's take a young focused candidate in the name of ... Chamisa. I want to agree with all progressive forces that we join hands to be one opposition movement to remove the ravaging Zanu-PF monster," Bhasikiti was quoted as saying.
Bhasikiti's remarks came a few weeks after another presidential hopeful Nkosana Moyo reportedly described both President Robert Mugabe and Tsvangirai as unfit to contest the 2018 presidential elections.
According to New Zimbabwe.com, the Alliance for People's Agenda (APA) candidate said that both Mugabe and Tsvangirai should by now have exited the political scene due to their health problems.
"Realistically, both president Mugabe and president Tsvangirai are unwell. These are things that people are going to consider as well as look into. If this was in the US, just on the basis of health alone, they would not qualify to run," Moyo was quoted as saying.
News24