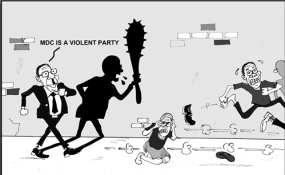 Photo: New Zimbabwe
The People's Rainbow Coalition (PRC) led Joice Mujuru has called on church leaders to speak truth to power by challenging the flagrant abuse of human rights by President Robert Mugabe's government.
The coalition's information department said church leaders should avoid becoming entangled in activities that support selfish political agendas driven by the First Family.
"Therefore, PRC celebrates genuine freedom of worship that is free from the social ills of political contamination by political leadership that seeks to promote self-serving interests of the Gushungo Dynasty and preaching of political hatred amongst Christians and Zimbabweans at large," said the pact in a statement on Saturday.
The remarks come after followers of apostolic and Zionist churches converged in Harare to endorse the candidature of soon to be 93-year-old Mugabe in next year's elections, describing him as appointed to serve Zimbabwe until death.
Mugabe has led Zimbabwe for 37 years in a reign characterised by gross human rights violations and poverty for the majority of Zimbabweans except his family and cronies. The veteran leader has leveraged on the apostolic religious movement for votes in successive elections.
PRC said Zimbabweans should register as voters to replace a "corrupt selfish political leadership" with moral politicians who will prioritise the needs of the electorate.
"It is estimated that over 80 percent of Zimbabweans who are eligible to vote are Christians and by registering to vote, Christians get the opportunity to vote into office a genuine God-fearing leadership," said PRC.
"This means, if Christians stand up, register to vote and finally vote in 2018, they are able to change the current state of the nation, politically, socially and economically."
The coalition said without a free, fair and credible elections Zimbabweans must be prepared for worse economic situation.
Cash shortages, high unemployment rates, politically motivated violence have become characteristic of Zimbabwe's economic and political environment under Mugabe.