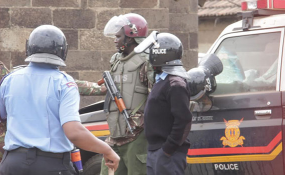 Photo: Capital FM
By Stella Cherono
Several police officers will soon be charged with murder, assault, rape and inflicting injuries on civilians after a watchdog concluded investigations.
The Independent Policing Oversight Authority (Ipoa) on Monday announced that it had completed investigations into the killing of six-month-old baby, Samantha Pendo, Stephanie Moraa, 9, and 15 other people and forwarded the files to the Director of Public Prosecutions Keriako Tobiko for action.
Police officers have been accused of excessive use of force while on duty, which has been blamed for the deaths and injuries of people they have been tasked with protecting.
ELECTION RESULTS
Baby Pendo was allegedly hit in the head by a police officer using a baton in Nyalenda, Kisumu County, leading to her death on August 15.
The police officer had been part of the team deployed to Kisumu to quell chaos that erupted after the announcement of the August 8 election results.
Nine-year-old Moraa was allegedly shot by police while on the third floor balcony of a three-storey building in Nairobi's Mathare North Area 2 on August 12.
UON STUDENTS
Ipoa chief executive officer Joel Mabonga said the authority had complied a report on the findings of the two killings that sparked public outrage.
"Ipoa has now forwarded the investigation findings together with recommendations to the ODPP for review and direction," Dr Mabonga said.
Apart from the two files, the agency also said it had finished investigations into the alleged police brutality on students of University of Nairobi on September 28.
"We submitted a report to the National Police Service Commission for stern disciplinary actions against the responsible commander," he said.
SHOOTINGS
Other cases that have been finalised and prosecution recommended include a case in which a General Service Unit officer is accused of rape at the GSU Headquarters in Nairobi February 9.
Ipoa said several officers accused of murder in police stations and in other parts of the city are also expected to be prosecuted.
They include the fatal shooting of Mr Moses Kanja and injury of Mr Edward Mathenge, allegedly by two police constables at Mihang'o police patrol base on April 27, 2015.
The agency also undertook investigations into the death of Mr Salim Juma in police custody on January 20, 2016 in Kongowea, Mombasa.