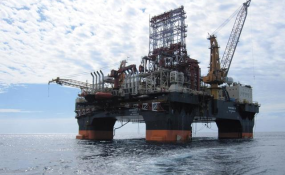 Photo: Daily News
Canadian Overseas Petroleum Limited booked an impairment of $15.6m after surrendering rights to license offshore Liberia.
COPL said it continued to focus on developing its attractive oil appraisal and development project in OPL 226, offshore Nigeria but during the third quarter to the end of September it and its partner in block LB-13, offshore Liberia, elected not to enter into third exploration period and surrendered their rights to the license.
COPL said this resulted in the expiration of LB-13 production sharing contract on 25 Sep.
The company said it booked an impairment of its exploration and evaluation assets of $15.6m that related to Liberia project. Subsequent to the end of Q3, the company raised £2.5m of additional equity in London to strengthen its balance sheet. Meanwhile, the Company continued to work with its investment bankers to source funds for its appraisal/development project at OPL 226, offshore Nigeria, held through COPL's partnership with Shoreline Energy.
In addition, the Company held numerous discussions with potential contractors and suppliers to drill an appraisal well in early 2018.
President and chief executive Arthur Millholland said: 'We continue to focus on developing our attractive oil appraisal and development project in OPL 226, offshore Nigeria.
'The initial work programme will be to drill an appraisal well to the NOA-1 oil discovery and place it on production through an Early Production Scheme.
'This would be followed by the drilling of up to three additional similar wells on the NOA Structure.
'This phase of the project would precede a full field development.
'Two investment banks have been engaged to assist our subsidiary ShoreCan with the financing required to commence drilling at OPL 226.
'Unlike equity financings that are straightforward and fast, project financings are complex and require a lot more paperwork and legal review. We hope to update the market and our shareholders at an early opportunity.'
At 9:16am: (LON:COPL) Canadian Overseas Petroleum Limited Com Shs Npv share price was -0.2p at 0.88p