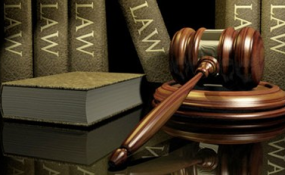 Photo: This Day
Newly assigned judge at the Criminal Court "C" has warned jurors and court officers not to use the court room as hustle ground. Judge A. Blamo Dixon said when they served a precept in any case for a party litigant, be it an individual, company or law firm, that case becomes a chopping spot for court officers on a daily basis, even when the case is disposed of by the court.
He cautioned court officers to remain at their assigned courts and stop going to other courts to hustle for the weekends. Judge Dixon spoke Monday at the opening of the November Term of Court at the grounds of the Temple of Justice on Capitol Hill in Monrovia.
"Stop using the names of judges to beg, collect or extort money from party litigants, because such act has the tendency to put judges at loggerheads. Before you help any other court, to serve a precept or to evict, let that assignment be approved by the judge or clerk," he emphasized.
He indicated that court officers should not abuse or take advantage of the rotational system of circuit judges, which is provided for in section 3.9 of the New Judiciary Law of Liberia, noting that they should not live above their incomes as doing so could destroy them and other innocent employees or judges.
Judge Dixon is quoted as saying "if you have a car that you owned or brought through an auction from any other courts at the Temple of Justice and you are unable to service and maintain that car, sell it and stop going around begging and extorting money and gas slips from party litigants by falsely using the names of judges."
He called on court officers to continue to proceed in keeping with law and maintain neutrality without being lawyers for one of the parties before their respective courts, noting that we respect you and you must also respect us. When a complaint is filed against you by a party litigant and we send for you to answer; and make an appearance, please cooperate and attend the summary proceedings.
He stressed that jury service is not for money making because it is not employment, saying "you have come to assist us as judges of the facts and not lawyers for any of the party litigants that you will encounter during the course of the November Term of Court."
The petit jury shall be requested from the jury manager on a court by court basis. They shall work daily for the same amount until the case assigned to them is disposed of and upon their disbandment, they shall also be commissioned later, during the course of the term.
Meanwhile, Judge Blamo Dixon has officially announced the formal opening of the First Judicial Circuit, Criminal Courts "A", "B", "C", and "D" for the Montserrado County, Republic of Liberia, for the official transaction of business for the November Term of Court.