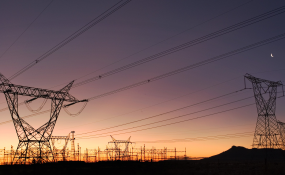 Photo: Chris Kirchhoff/MCSA
analysis
By C Yelland & Y Groenewald
A final draft report from Eskom to its shareholders for the second quarter of 2017 ending 30 September 2017 paints an alarming picture of funding difficulties and declining liquidity (cash and cash equivalents plus investments in securities), primarily driven by perceptions of poor governance.

A report from Eskom to its shareholders, which has been viewed by EE Publishers and Fin24, provides compelling substance to the words of Finance Minister Malusi Gigaba in his recent 2017 Medium-Term Budget Policy Statement that Eskom's financial position is the most serious threat facing the South African economy and budget.
The reports states that without any further funding, Eskom will have about R1.2-billion of liquid assets at the end November 2017 against a target of R20-billion, and will move into a negative liquidity position of approximately R5-billion by end of January 2018. This figure assumes the successful draw-down of R2.2-billion from development finance institution (DFI) loans and R1,3-billion export credit agency (ECA) facilities.
The report further states that the qualified audit opinion in Eskom's 2016/17 annual financial statements relating to irregular expenditure, governance issues and changes in leadership has had a negative impact on investor sentiment, which is affecting...