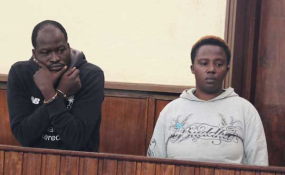 Photo: Ayub Muiyuro/Daily Nation
By Joseph Openda and Linet Amuli
The High Court in Nakuru has released two suspects charged with the murder of international rugby player Mike Okombe on bond.
Justice Maureen Odero Tuesday released Mr Calvin Okoth and Ms Maryanne Mumbi on a Sh300,000 bond each with surety.
The two denied the charges of killing Mr Michael Shitindo Okombe on November 4 at a house in Olive Inn in Kiamunyi in the outskirts of Nakuru Town where they were attending a birthday party.
The bond application made by Mr Kamau Chomba, the lawyer representing Ms Mumbi - Mr Okombe's girlfriend - was allowed after the prosecution failed to challenge the suspects' release.
"Having there been no objection by the prosecution on the bond terms, the court directs that the accused persons be released on Sh300,000 bond each," ruled Justice Odero.
AUTOPSY
An autopsy carried out by government pathologist Titus Ngulungu last week revealed that Mr Okombe died due to internal bleeding after he was stabbed four times on different parts of his body.
The report showed the player had four wounds in the chest, head, back and cheek.
The rugby star will be buried at his home in Emasatsi Village in Khwisero, Kakamega County.
Mr Okoth and Ms Mumbi were among the four suspects who were arrested following the murder.
Two others, Mr Eric Mochache and Mr Vincent Omondi, were dropped from the suspects' list after police investigations failed to link them to the murder.
Justice Odero directed that the two accused persons appear in court on January 22, 2018 when the hearing will begin.