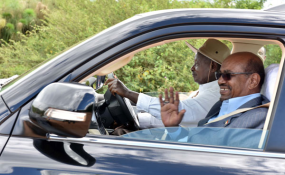 Photo: PPU
By Frederic Musisi
Kampala — The European Union has described as "regrettable" the decision by Uganda, as signatory to the Rome Statute, to host Sudanese president Omar-al-Bashir, who is wanted by the International Criminal Court (ICC).
EU's foreign policy chief Federica Mogherini in a statement issued from Brussels, said Uganda should "respect its obligations under international law and as a State Party to the ICC."
President Bashir, who arrived in the country on Monday for a two-day State visit, is wanted by the ICC on two counts of crimes against humanity and genocide of more than 300,000 deaths in Sudan's Darfur region. The court issued the warrants for him in 2009 and 2010, but he has since been carefully circling the globe--to both ICC party and nonparty states.
The Ministry of Foreign Affairs Permanent Secretary, Mr Patrick Mugoya, however told Daily Monitor that government will "explain itself appropriately" for its actions through diplomatic channels.
"It is true we are a member of the Rome Statute but at the same time we are interested in peace and stability in the region," Mr Mugoya noted.
He added: "The issue of peace and stability takes precedence over anything, and president Bashir is a key player.
Sudan is part of the seven-member Inter-governmental Authority on Development (Igad) also comprising Uganda, Kenya, South Sudan, Djibouti, Kenya and Ethiopia. Igad has over the last three years been superintending over the peace process in South Sudan since fighting broke out in December 2013.
Khartoum is also said to be close to the People's Liberation Movement (SPLM) rebel faction loyal to former vice president Dr Riek Machar.
The EU's Mogherini in the statement, called upon all ICC/UN member states "to abide by and implement the resolutions adopted by the Security Council resolution of 2005, which referred the crisis in Darfur to the ICC for investigations.
ICC focuses on four major international crimes; war crimes, genocide, aggression and crimes against humanity.