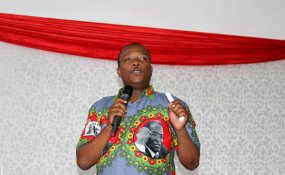 Photo: The Herald
ZANU PF youths aligned to the embattled Lacoste faction have criticised national youth chairperson Kudzanai Chipanga's attacks on Commander of the Zimbabwe Defence Forces declaring that Chipanga had reached his limit.
On Monday, Gen Constantino Chiwenga addressed the media where he warned President Mugabe that the continued factional fights were now causing political instability and the military "will not hesitate to step in".
In response to the chilling warning from the military, who were seen to be backing Mnangagwa, Chipanga jumped to Mugabe's defence saying they would no sit idly whilst the nonagenarian leader was attacked.
Chipanga's remarks might be interpreted by some as the views of the Zanu PF G40 faction after the ruling party's.
"We as Zanu PF Youth league are a lion which has awakened and found its voice, therefore we will not sit idly and fold our hands whilst cheap pot-shots and threats are made against Mugabe," he said.
"This is an assault on our freedom as we now have a new constitution which places soldiers in barracks and civilian authority in power. The guns will follow the politics and not the politics following the guns. Cde Chiwenga therefore cannot be allowed to dictate who will lead the Party and the Country."
However, Children of Zimbabwe National Liberation War veterans Association (Bulawayo Chapter) Secretary for Defence Blessing Makamu questioned Chipanga's motives.
"Which youths was he representing in that press conference because we never set down and deliberated on the general's statement.
"We cannot be found entangled in issues involving our seniors in the party and government," said Makamu.
Makamu cautioned Chipanga for dragging the youth league into matters of national security and daring the military.
Adding her voice, Zanu PF youth league commissar (Bulawayo Central Business District chapter) Shorai Mashungu said the allegations levelled against General Chiwenga of misappropriating the missing $15 billion in diamond revenue were baseless.
"It is surprising to hear Chipanga accusing General Chiwenga of squandering the missing $15 billion. We do not want to be involved in Chipanga's web of lies," declared Mashungu.
Chipanga was one of the chief architects of Mnangagwa's demise.