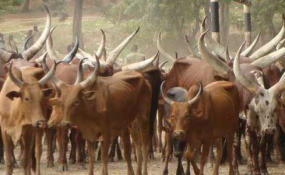 Photo: The Citizen
By Allan Olingo
Diplomatic relations between Kenya and Tanzania have been strained over the seizure and sale of 1,125 cattle belonging to Kenyan Maasai herders; Tanzania is in the process of auctioning another 2,400 cattle for crossing into Mount Kilimanjaro National Park in search of pasture.
Kenya, through its EAC Minister Phyllis Kandie, sent a letter dated November 3 to Tanzanian authorities saying that the auctions threaten cultural harmony and integration as envisaged under the East African Community.
In the letter, Kenya is asking the EAC to formulate a policy guiding relations between border communities because the Maasai from either side traditionally cross the border in search of pasture.
"Over the past few months, a number of unilateral actions have been carried out by Tanzania against Kenya, the latest being the seizure and auction of Kenyan cows in October. This action has raised a number of questions regarding good neighbourliness," the letter said.
Ms Kandie said since August, Kenya has allowed in 4,000 cattle from Tanzania without taking any action that could provoke retaliatory measures by local communities.
"We seek stoppage of such actions that can cause cross-border conflict. We have tried our best to cool down the Kenyan community at the border and we hope Tanzania will play its part in promoting good neighbourliness," Ms Kandie said.
Taking action
However, four days after the letter was sent, Tanzania President John Magufuli asked the country's herders to brand their animals for easy identification and monitoring. He said the seizure was within Tanzania's laws and key to conservation, adding that Tanzania was not a grazing field for cattle from other countries.
"We are going to take action as per the law. We want to tell our neighbours to take measures based on their laws once our animals graze in their countries. Most of our land in border regions is being degraded by livestock from neighbouring countries. This should stop forthwith," President Magufuli said during a visit to Tanzania's northwestern Kagera region.
Kenya tasked Ms Kandie, who was in Arusha attending the Third African Judicial Dialogue between October 27 and November 11, to address the issue with the Tanzania government officials. Kenya has said it will compensate herders whose animals were auctioned to the tune of $530,000.
Flimsy grounds
Kajiado Governor Joseph ole Lenku accused the Magufuli administration of harassing Kenyans on flimsy grounds.
Former Tanzania prime minister Edward Lowassa, a Maasai, asked the governments to address the matter diplomatically.
"The Maasai have co-existed in harmony. When we start having such issues then we are threatening that same peace. We should try and sort out this issue at the national level so as to guarantee co-existence at the local level," Mr. Lowassa told The EastAfrican.
The Permanent Secretary in Tanzania's Ministry of Livestock and Fisheries Maria Mashingo said that seizure of cattle would continue.
"We are going to enforce this every time these animals enter our country illegally. It is important for our border communities to not allow, for any reason, herders from other countries to bring their cattle into our pastures as this is economic sabotage. We are also urging our herders to avoid crossing the borders into other countries by any means possible to overcome similar problems," Dr Mashingo said.
Degradation
Recently appointed Livestock and Fisheries Minister Luhaga Mpina asked regional administrators to seize animals found on the Tanzanian side of the border as they were destroying the country's ecosystems.
On October 13, Mr Mpina visited Mwanga district of Kilimanjaro region where he said he saw the destruction caused by over 6,000 cattle from Kenya.
"We confiscated 1,125 cattle from one of the neighbouring countries, whose owners could not be located. I directed the regional authority through the Attorney General to confiscate the animals and auction them," Mr Mpina said.
Tanzania said that as at the end of October, more than 18,000 cows from neighbouring countries had been found in Arusha, Mara, Kilimanjaro, Songwe and Kigoma.
The country also claims that more than 10,000 hectares of land have been destroyed by the animals, putting its water sources, roads and green pastures at risk.
Mr Mpina said herders ignored a seven-day ultimatum to remove the animals, prompting the rounding-up of animals that started on October 23.
Tanzania's Animal Diseases Act No 17 of 2003 bans importation or movement of live animals into the country without a permit. It was assented to by then-president Benjamin Mkapa in January 2004. The Act empowers district magistrates under Subsection IX (3) to order for forfeiture of the animals to the state upon conviction of the person.
The EastAfrican has learnt that Tanzania did an aerial mapping of the cattle and the destruction caused last month through Tanzania National Parks (Tanapa).
The animals were reportedly rounded up by ministry officials assisted by wildlife guards from Tanapa.
So far, Tanzania has seized more than 4,000 cattle through three operations in Kilimanjaro, Mara and Kagera regions. Regional administrations in Arusha, Songwe, Katavi, Tanga and Rukwa have also been enforcing the directive.