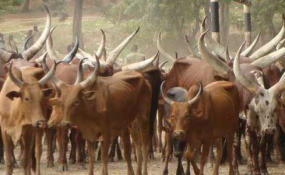 Photo: The Citizen
By Ambrose Wantaigwa
Tarime — East African residents residing in both sides of the Tanzanian Kenyan border at Sirari township in Tarime District have said they enjoy productive integration including free movement of goods and services between them.
The residents conducting business at the border town who were interviewed by this paper across the border said they were not moved by the recent incident elsewhere brought about by the "chicken and livestock" grazing matters.
A Tanzanian court recently auctioned 1,305 Kenyan cows whose herders had driven them across the border in what the authorities said was illegal and sometimes trespass.
Four Kenyan herders - the owners of the cows and three elders - who had entered Tanzania were charged with being in the neighbouring country without valid travel documents. Tanzania remains the only East African Community country that Kenyans need a passport and visa to enter, even while travelling by road.
While the Tanzanian officials on their part counterclaims the same happens to their citizens while crossing over and travelling. A fortnight ago at Namanga, Tanzanian authorities burnt 6,400 one-day-old chicks from Kenya, on suspicion they could spread bird flu.
They said they had been smuggled from Kenya and arrested a Tanzanian businesswoman for questioning.
Again in his busy working tour of the Lake Zone region last week, the Tanzania president John Magufuli reiterated that all people and other non-citizens intending to cross the Tanzanian borders have to abide by the existing immigration laws, and added "Tanzania was not a grazing land for other East African countries"
All having been said it seems residents here across both countries are much occupied with an EAC neighbourhood and are prioritising on the chances for strengthening the common trad ing bloc and integration, to say and are thinking of something of political federation.
A prominent businessman and resident of Sirari in Tarime Marwa Charandi told the Daily News that throughout his experience the Tanzanian officials and business people operating here are not behaving with astonishing hostility towards Kenyans as some critics may allege.
He said the chicken-livestock saga was more of an individual matter and was blown out of proportion by some section of media and urged fellow traders to abide by the immigration regulations governing both states whose residents have enjoyed tangible brotherhood for centuries and now the broad East African Cooperation (EAC)
"Some section of media and other social media elements are trying to impose to residents a feeling that the petty issues between border officials and some unscrupulous tax evading traders pertaining tax clearance is a National issue while in actual sense is not" Charandi said.