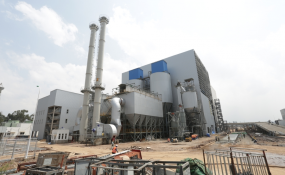 Photo: Ethiopian Herald
By Girmachew Gashaw
Ethiopia is a country with untapped potential of energy resources. Presently, realizing its immense contribution for the overall economic development, the nation has now striving to generate electric power using all possible sources.
Addis Ababa Waste to Energy Facility is a case in point. Though some tasks have been going on, 97 percent of the civil work of the project is currently completed, the UK based Cambridge Industries Human Resource Director Ermias Alemayehu told recently to The Ethiopian Herald.
Indicating that the response to the request for transmission power is necessary to operate the facility, he said due to transmission problems, Testing and Commissioning (T&C) task has not yet started.
According to him, T & C aims to lay down the minimum testing and commissioning requirements to be carried out on electrical installation.
Mentioning that the project is delayed due to various reasons. He said efforts are underway to complete the job on time. "Currently, we are working in collaboration with the Ethiopian Electric Power to address the problem faced so far. Though some tasks are still going on, it is not performing with full gear."
The total budget of the project is 120 million USD. Compared to other European countries, it is one of the projects constructed with lowest price. But standard wise, it is similar and competitive with other world facilities. It is also one and the same with the facility built in Copenhagen.
The project is also unique in its flue gas treatment which eliminates toxic and noxious emissions and protect the environment from emission, he further said.
The computerized facility, when it is completed and becomes operational, it will operate for 24 hours a day, seven days in a week without interruption; and creates job for over 500 people, he added.
Furthermore, the bottom ash residues of the furnace facilities will receive 1400 tons of waste and generate 250 ashes which has a capacity to produce 27,000 bricks a day.
Using other technological machines, it is also possible to separate iron from the ash. "We can separate 3,600,000 kg iron from ashes. It will also clean the capital from dirt and address interruptions in power supply," he further said.
It also generates steam as a residue. Small manufacturing companies can open business related to this in the nearby area. Concrete pole, for instance, is produced within two weeks time. The steam helps to produce these materials within two hours.
The facility can generate 185 GH electric power. This is base load facility. With this capacity, it will ignite 30 percent light valve of Addis Ababa. "As long as we feed the waste, the facility consistently generates power, "
Addis Ababa Cleansing Agency Dry Waste Reutilization Officer Nebiyu Tesfaye said that the project will have multifaceted benefits. Concurrently to generating electric power, it improves city's waste management system and creates jobs.
Currently Addis Ababa generates 9,000 metric cube dry waste. or 3 or 4 million wastes. The facility requires 1.4 million dry wastes. So, Addis Ababa has the potential to dispose waste that is needed for the facility.
Concerning the facility he said it has two turbines which have the capacity to generate 25KGW. But there will be various challenges that would affect the facility. For instance, unless there is enough waste, it cannot continue its production.
The Electric Power and the City Government should discuss on the challenges that the project would encounter. The waste disposal association should also properly handle the waste and other hazardous waste substances separately. For this to happen, raising awareness of the community is critical.
Prime Minister Hailemariam Desalegn while briefing journalists on this same issue recently said that, currently, Repi Waste to Energy Project has to be operational. Unfortunately, due to failure to manage the contract effectively, it has not yet engaged in its production phase.
When the project is completed, it will be Africa's first waste-to-energy project generating 50MW of power, as it is learnt.