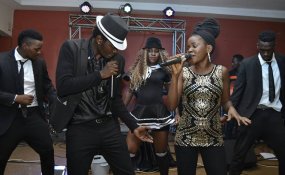 Photo: The Observer
By Nicholas Bamulanzeki
Friday night was no ordinary one for music lovers as rising artiste Elysha Mutebi put up a concert to honour fallen legends Lucky Dube and Michael Jackson (MJ).
MJ was one of the most popular entertainers in the world and the bestselling music artiste at the time of his death in 2009. Lucky Dube was South Africa's biggest selling reggae artiste having recorded 22 albums in a 25-year career.
He is also credited for bringing African reggae to the mainstream and was a darling to Ugandans, performing live in Kampala several times before he was gunned down in 2007.
The tribute concert that took place at Rumour bar in Bukoto attracted a huge crowd of reggae and MJ fans. Elysha did not disappoint as he put up one of the best live music performances that kept revelers excited from the start to the end of the concert.
The artiste took to the stage at around 10:30pm dressed in a reggae outfit and with dreadlocks to finish the look. He was welcomed by thunderous screams, cheers and ululations from the crowd especially the ladies.
Without wasting time, Elysha, backed by S&S band, started off with Lucky Dube's Kiss No Frog. He also performed Remember Me and Different Colours, One People, among others, stoking Dube nostalgia.
He then left the stage, only to return wearing a black suit and a black and white fedora to look as close to MJ as he could.
The artiste excited the crowd with Michael Jackson's iconic slides and glides as well as the robot, spin and of course the famous moonwalk.
He performed some of the legendary icon's songs such as Thriller, Heal The World and Earth Song. The show ended a few minutes to 1am.