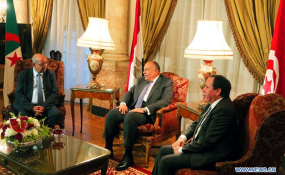 Photo: Ahmed Gomaa/Xinhua
Foreign ministers of Egypt, Tunisia and Algeria on Wednesday urged the Libyan rivals to achieve a breakthrough in the political settlement process.
In a joint statement called "The Cairo Declaration," Egypt's Foreign Minister Sameh Shoukry stressed the three countries' constant stances on joint action to maintain efforts meant to achieve stability in Libya and rebuffing any foreign interference.
The top diplomats said they reviewed efforts exerted by their countries over the recent period to achieve accord among the disputing parties in Libya.
They also appreciated the efforts of the United Nations Libya envoy and expressed support for his plan to settle the Libyan crisis.
The ministers agreed to hold their next meeting in Tunisia, but they have not set a date for that meeting.
Libya's neighboring Arab states, Egypt, Tunisia and Algeria, closely coordinate positions and push for dialogue among rival Libyan factions to reach a political settlement in the war-torn North African country.
Following the uprising of 2011 that toppled Gaddafi's regime, Libya has been struggling to make a democratic transition amid political division, insecurity and chaos.