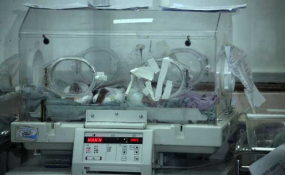 Photo: Evans Habil/Daily Nation
By Aggrey Omboki
An innovative incubator blanket could prove a potential lifesaver to thousands of pre-term babies in Kenya.
American firm Warmilu Inc has developed a portable, user-friendly incubator blanket that goes for Sh12,000.
Warmilu's incubator blanket technology is a breakthrough in the care of newborns and dealing with hypothermia, especially in pre-term babies.
ELECTRIC
The IncuBlanket technology is a close substitute of electric incubators and complementary to the Kangaroo Mother Care technique, which utilises the parent's temperature to warm the pre-term infant.
Kenyatta National Hospital assistant nurse-in-charge of the premature babies unit Florence Ogongo said Kangaroo care was available at the institution.
"We have a fully functional unit, with parents warming up their babies. We even play soft music," she said.
The infant body-warmer electricity can be used in remote hospitals or those which have incubators but are overwhelmed by pre-term babies like KNH and other referral institutions.
Warmilu CEO Grace Hsia said the infant body-warmer was portable and easy to use.
"IncuBlanket potentially provides a lifeline to thousands of pre-term children in remote hospitals that may not have access to electric incubators," she said during the product launch in Nairobi on Wednesday.
TECHNOLOGY
"Our technology is easy to use, portable and can be easily transferred from one hospital to another."
In an earlier interview with The Detroit News newspaper, Ms Hsia, who herself was a pre-term baby, said she was moved by the plight of infants in remote regions without electric power or incubators.
"It shocked me to learn that more than a million infants die from hypothermia in resource-scarce settings every year. I thought to myself, 'We can do something to help these babies,'" the 27-year-old chief executive said.
Late last week, Ms Jacinta Akinyi lost five pre-term babies born at Matata Nursing Home, Homa Bay County.
Two infants died at the hospital while the remaining died at Kisii Teaching and Referral Hospital due to pneumonia, low birth weight and other complications.
About 20 million children are born pre-term around the globe every year, according to the World Health Organisation