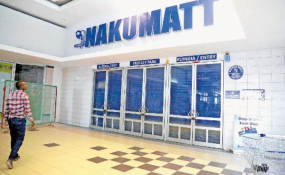 Photo: The Citizen
By Abiud Ochieng
The planned merger of Nakumatt Holdings Ltd and Tuskys Supermarkets has been halted.
The Competition Authority of Kenya (CAK) told Tuskys shareholders to first resolve internal wrangles before the merger can be considered.
The decision comes at a time when Nakumatt is also awaiting a decision from the High Court on its request to have an administrator appointed to run its affairs until it is able to resume normal business.
MERGER
However, the court judgment may have been overtaken by events, given that the administrator was to facilitate the merger that was thwarted.
Tuskys shareholder Yusuf Mugweru, through lawyer Philip Murgor, objected to the proposed merger.
He raised before the CAK issues relating to the ownership of Tuskys, its financial status and the overall viability of the intended transaction.
"These are among issues the authority normally considers as part of the public interest considerations of the transactions," read a decision by the CAK.
Mr Murgor also brought to the attention of the CAK pending suits amongst Tuskys' shareholders concerning allegations of fraud that are yet to be determined by the courts.
He further challenged the validity of the board resolution of November 3, 2017, a crucial document in the review and approval of the merger.
"Given the gravity of the allegations, we advise that it is prudent for the Tuskys Supermarkets shareholders to resolve their disputes to enable us be properly seized of the proposed transaction," said the CAK.
TRANSACTION
Mr Mugweru also claimed he was never consulted or provided with information regarding the proposed merger yet Kenyan laws require all shareholders of a firm to unanimously consent to such a transaction.
High Court Judge Joseph Onguto was today expected to rule on whether or not to appoint an administrator as requested by Nakumatt or proceed with the insolvency petition that has attracted 90 creditors.
He instead directed that the ruling awaits the outcome of a Court of Appeal judgment in a case filed by one of Nakumatt's landlords challenging a recent decision by the High Court.
GC Retail Ltd, Nakumatt's landlord at Garden City branch in Nairobi, are contesting the decision by Justice Onguto to bar them from evicting the retailer from their premises.