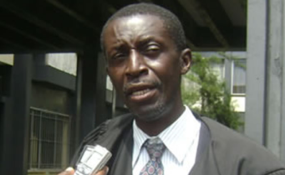 Photo: FrontPage Africa
By Jimmey C. Fahngon
Human rights lawyer Cllr. Tiawon Gongloe has said there is no constitutional backing for the formation of an interim government should President Ellen Johnson-Sirleaf's tenure expired, in the absence of an elected president to succeed her.
In recent times, there have been discussions in the public about the formation of an interim government to succeed the president when her successor is not elected before the expiration of her tenure on January 15, 2018.
But appearing on FARBRIC Radio Wednesday, Cllr. Gongloe said the constitution is very clear as to who should succeed the president in this presence situation.
He quoted Article 64 of the Liberian Constitution which says: "Whenever the office of the President and of the Vice-President shall become vacant by reason of removal, death, resignation, inability or other disability of the President and Vice-President, the Speaker of the House of Representatives shall be sworn in as Acting President until the holding of elections to fill the vacancies so created. Should the Speaker be legally incapable or otherwise unable to assume the office of Acting President, then the same shall devolve in order upon the Deputy Speaker and members of the Cabinet in the order of precedence as established by law. Commission shall within ninety days conduct elections for a new President and a new Vice-President."
Cllr. Gongloe explained that considering the current situation where the tenures of the President, Vice President and Speaker will all expired, the President Pro-Tempore of the Liberian Senate will have the constitutional backing to take over as acting president, pending the holding of elections in 90 days as provided for in Article 64 of the Constitution.
He said there is nowhere in the constitution that supports the formation of an interim government based on the current stalemate in the country's electoral process.
The astute Liberian lawyer also said interim government is not something that Liberians should hope for because it does not have the mandate of the people; as such, it does not perform to their expectations.
Cllr. Gongloe maintained that interim government does not have any space in Liberia because it is not supported by the constitution.
He explained that interim government can only be formed where there is instability and breakdown in the governance system, where the three branches of government are not functional.
In the present case, Gongloe said only the Executive branch of Government and House of Representatives will not be functioning, which is not a sufficient ground for interim arrangement, because the Senate and the Judiciary will still be active.
He pointed out that the current situation does not require the president to declare state of emergency, just to hold onto power, when the constitution is clear as to who will succeed her in the absence of an elected president.