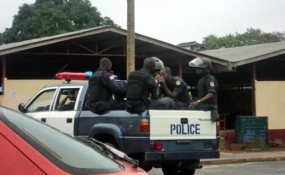 Photo: The New Dawn
By A. Omaska Jallah
Normal academic activities on the Fendell Campus of the University of Liberia were on Wednesday disrupted when students and riot officers of the Liberian National Police clashed.
The riot began when thousands of students were reportedly denied by authorities of the university to complete their registration process.
The head of the affected students Williams Dee said it is frustrating for the UL administration to close the registration process, after the students have paid their fees at various banks, waiting to complete the registration process.
He said the affected students through their head communicated twice with the administration, appealing for the reopening of the registration process but to no avails.
Student Dee said their quest for administration to reopen the process has been peaceful.
He said it is unacceptable for the administration of the university to deny thousands of students the opportunity to acquire education, adding that education is the right of all Liberians.
"They have come to suppress us of our rights; this is unfair; since we used the diplomatic means and they refused, we will not relent until our quest is met; we must get our education," Dee said
During the protest, the administration of the University invited the riot police to help arrest the situation, something that led students to go on the rampage, thus disrupting normal activities on the campus.
The riot police were seen using tear gas in an attempt to restore calm on the campus, which led to several students sustaining bodily wounds.