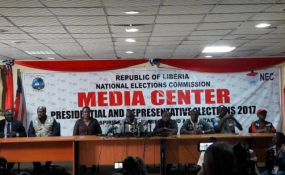 Photo: Liberian Observer
Members of the Liberian Senate have welcomed the decision of Liberty Party and others to seek legal redress on claims of irregularities and fraud during the October 10, 2017 presidential and representative elections.
However, the Senate admonished all aggrieved parties not to do anything that may have the propensity to disrupt the peace, security and stability of the country.
During a one-day retreat Tuesday in Margibi County, members of that august body encouraged the National Elections Commission (NEC) to expeditiously adjudicate all matters brought before it within the constitutional timelines.
The Senate in a statement released said as representatives of the Liberian people, they shall not support, nor encourage any actions by any group or institution designed to undermine the Constitution, thereby creating conditions for unconstitutional governmental structures as experienced during the 14 years of war in our country.
They resolved that they will consult with all relevant political and other national leaders, as well as with regional and international partners with the aim of resolving disputes arising out of the October 10 polls, and to assure the people of Liberia and the world at large that Liberia remains at peace and will strictly follow the constitutional course in the transfer of power.
The Senate: "In consideration thereof, the Senate hereby appoints a Special Committee headed by the Honorable Armah Zolu Jallah, President Pro-Tempore of the Senate to pursue the mandate as herein indicated. Other members of the Committee are: Sen. J. Gbleh-bo Brown, Maryland County; Senator Peter Coleman, Grand Kru County; Senator Nyonblee Karnga-Lawrence, Grand Bassa County; Senator Conmany B. Wesseh, River Gee County; Senator Oscar Cooper, Margibi County and Senator Marshall Dennis, Grand Gedeh County."
Meanwhile, the Liberian Senate expressed its deepest appreciation to the people of Liberia for their peaceful turnout and participation in the October 10, 2017 elections and their exercise of exceptional patience during this challenging period.
It however, urged the people of Liberia to continue to remain calm in the interest of peace and stability, consistent with the rule of law.