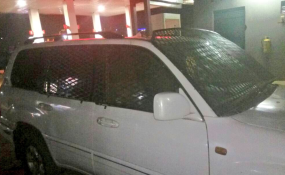 Photo: kizzabesigye/Twitter
By Edson Kinene
Former Forum for Democratic Change (FDC) presidential candidate Dr Kizza Besigye has been rearrested shortly after Rukungiri Chief Magistrate's court extended his bail.
Dr Besigye, FDC secretary for Mobilisation Ingrid Turinawe, Rukungiri District councillor Innocent Tashobya, Joseph Akankwasta Bamuhangire and Darius Tweyambe both FDC activists had on Thursday appeared before the presiding magistrate Julius Borore in a case they allegedly committed on October 19, 2017.
The magistrate had extended their bail to February 20, 2018 for further mention.
Dr Besigye, Ms Turinawe, FDC presidential candidate Patrick Amuriat and Tashobya were arrested in Rukungiri on October 19 as they travelled from Rukungiri to the neighbouring Kabale District to address a rally.
They were charged with two counts of inciting violence, malicious damage to property and disobedience of statutory duty. They denied the charges and the case was then adjourned to November 16, 2017 for mention and setting of trial dates.
The accused through their lawyer Mark Mwesigye, on Thursday asked court to dismiss the case because the state prosecutor was not in court.
State prosecutors are currently on a sit-down strike over what they described as low pay.
Today's arrest saw Dr Beisgye's driver, Kato Fred, his aide Ronald Muhinda and Ingrid Turinawe taken to Mbarara.
The Kigezi regional police commander Denis Namuwoza said that Besigye was arrested because he was to appear in Mbarara court to face new charges he committed in the District alongside Mr Amuriat and Kawempe South MP Mubarrack Munyagwa.
Mr Amuriat and Munyagwa early today appeared in Mbarara Chief Magistrate's Court and they were granted bail.
Dr Besigye and Ms Turinawe , who was also re-arrested, have been in police custody in Rukungiri District since Tuesday following their arrest in Mbarara District.
They were arrested at about 2pm as they left Grand Holiday Hotel to Kakyeka stadium to canvass for votes for Mr Amuriat.
Supporters started pelting stones at the police officers who fired live bullets, tear gas and sprayed water into shops where suspected protestors were hiding.
Some traders were seen closing their businesses as police and Besigye supporters continued to exchange stones and bullets.