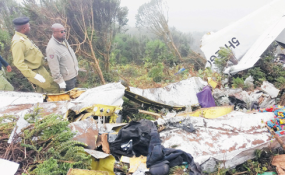 Photo: Mussa Juma/The Citizen
By Mussa Juma
Arusha — Bodies of 11 people, who on Wednesday perished, when a chartered plane belonging to Coastal Aviation crashed at Empakaai near Serengeti National Park were yesterday identified, it has been reported.
The Cessna Grand Caravan aircraft 5H-EGG carrying a pilot and 10 passengers was flying tourists from Kilimanjaro and Arusha to Serengeti National Park, when it went down in the Ngorongoro Crater at about 8am. Reports have it that before falling, it spent about 30 minutes going around due to poor visibility before the pilot decided to defuel it.
Two directors of the renowned Tourism Organisation in Arusha Nassibu Mfinanga and Shatri Mfinanga are among the people killed in the aircraft crash.
Speaking at the scene of accident, one of the relatives of those killed, Mr Rick Thomas, said the directors on November 11 organised a special event, which was attended by the organisation's management aimed at helping one of the orphanages in Arusha.
Karatu district commissioner Theresia Mahongo said the recovered bodies were taken to Arusha for identification.
For his part, the Ngorongoro deputy chief conservationist, Dr Maurus Msuha, said cooperation between villagers and the rescue team made the operation easier.