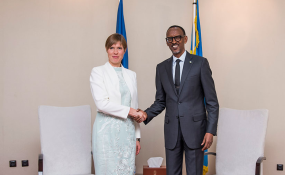 Photo: New Times
By James Karuhanga
Estonian President Kersti Kaljulaid yesterday visited Kigali Genocide Memorial Centre, Gisozi, shortly after arriving into the country.
She laid a wreath and paid homage to the victims of the 1994 Genocide against the Tutsi.
Soon after laying wreaths at the final resting place for more than 250,000 victims of the Genocide, Kaljulaid wrote a message of condolence.
"On behalf of all Estonian people, I offer our condolences to the people of Rwanda, to the survivors and the families of the victims of the genocide against the Tutsi," reads her message.
"Unfortunately, our world is no better today - and unfortunately, while physical wounds may heal, the hearts remain broken."
Kaljulaid commended Rwandans for their effort to overcome the "terrible period" as one unified community.
President Kagame held bilateral talks with President Kaljulaid at Village Urugwiro before hosting her and her delegation to a dinner.
Kaljulaid's visit is part of a tour in the region which also took her to Ethiopia, where she met with the country's leaders and officials of the African Union, according to a Tuesday statement received by The New Times from the office of the Estonian President.
Cooperation in digital field
During their meeting at Urugwiro Village, President Kaljulaid and President Kagame discuss various areas of cooperation including strengthening bilateral relations and working with Estonian enterprises in digital field.
It is the first-ever visit of the President of Estonia to Africa. Since July, Estonia has held the presidency of the Council of the European Union for the first time, a term which lasts six months.
Kadri Humal-Ayal, Honorary Consul of Estonia in Kenya, told The New Times earlier Wednesday that Estonia is expanding its partners beyond traditional immediate neighbours.
In many ways, she said, Rwanda and Estonia have similar mindsets in regard to efficiency and have great potential to collaborate in development of digital solutions and eGovernance systems, among others.
More about Estonia
Estonia is located in Northern Europe.
The country is known to have the highest number of startups per capita in Europe, and is among the cleanest places on the planet and the least populous state of the EU with a population of 1.3 million people.
Known as the birthplace of Skype, a telecommunications application software product that specialises in providing video chat and voice calls, Estonia is a very tech-savvy country, with one of the highest adult literacy rates in the world - 99.8 per cent, according to UNESCO.
It is the first country in the world to adopt online voting - in 2005 - and is also the first in the world to have implemented flat tax system.