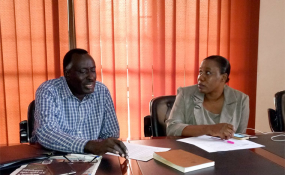 Photo: The Observer
By Alon Mwesigwa
More than half of Ugandans are opposed to either military, one-man or one-party rule, a new survey has shown.
The survey findings reveal that 59 per cent of the country's population also feels that respect for democratic values has been in decline. The report also reveals that only 39 per cent of Ugandans feel the country "is a democracy with minor challenges".
The survey was conducted by Afrobarometer, a research network that conducts public attitude surveys on democracy, governance and economic conditions in Africa.
It worked with Hatchile Consult Ltd, a social research consultancy firm. Speaking for the ruling party during the report's launch at Grand Imperial Hotel in Kampala yesterday morning, Fred Bamwiine, the resident district commissioner for Butambala district, quickly dismissed the survey.
He described it as "provocative" and asked "what Afrobarometer stands for."
"Who are the sponsors and what are their motives?" he asked.
"The country maybe should look at a model that looks at people's welfare without elections."
President Museveni has ruled Uganda since 1986 and the survey results seem to speak to how exactly Ugandans feel about his long stay in power. Museveni has used state resources and other forms of patronage to sustain himself in power, according to some analysts.
The study found that a whopping 81 per cent of Ugandans prefer democracy to any other form of government while less than half of the population, representing just 46 per cent of Ugandans, felt fairly satisfied or very satisfied with the way democracy is working in the country.
These findings mean Ugandans acknowledge that free and fair elections, accountability, free media, parliamentary oversight, and multipartyism are good for the country.
Afrobarometer interviewed 1,200 adult citizens for the study and says the sample size was 95 per cent representative of what the majority Ugandans think.
Field work was done between December 26, 2016 and January 8, 2017. Respondents were asked to answer based on their experiences over the period from 2000 to 2017.
It should be noted from the onset that around this period, the polarising moves to remove presidential age limits from the constitution had not been prominently publicised.
"The general trend in democratic attitudes in Uganda appears to fluctuate, with an overall decline except for support for multiple political parties," the study found.
POOR ELECTIONS
The survey further established that many Ugandans become disillusioned with democracy every after a general election.
The survey found that moments before elections, the number of Ugandans satisfied with the way democracy works in Uganda tended to be high, but this figure dropped sharply after elections.
"Ugandans who view their elections as of poor quality, or see poor delivery of political or economic goods, tend to demand democracy more," the report said.
"Ugandans' attitudes toward democracy appear either fading or fluctuating with the national election cycle, with committed democrats occasionally receding," it added.
The slump in demand for democracy after the 2016 elections is characterised by decline in democratic values and perceived quality of elections, the study suggests.
On education level, persons with post-secondary education are reported to generally prefer democracy to any other system. Also, urban dwellers and men tended to prefer democracy more.
Fifty two per cent of primary- educated Ugandans or less said they preferred democracy.
The study also found that a significant number of Ugandans could not define what democracy was. By 2015, most Ugandans understood democracy to mean civil liberties/personal freedoms (36 per cent) or peace/unity (19 per cent).
NO DEMOCRACY IN UGANDA
Dr Gerald Kalyeija, an academic at Uganda Management Institute, said democracy in Uganda was more of an illusion than reality. Ugandans, he said, were deluded by procedural exercises thinking that repetitive elections institutionalise democracy.
"The rituals of elections is the least of what democracy is about," Kalyeija said. "The substantive issues of human rights and human dignity are not catered for. You can win all the elections but when they don't reflect what people want," he said.
"Bribery, intimidation and patronage to win elections [are not part of democracy]."
Like Kalyeija, many other analysts have argued that what prevails in Uganda is not democracy, but something that resembles it.
Prof Joe Oloka-Onyango at the School of Law at Makerere University, for instance, says that many of the no-party structures remain intact and operational in Uganda despite talk that the country reverted to a multiparty political dispensation after the 2005 referendum on political systems.
These one-party structures function as the main conduits for the NRM regime's political mobilisation and for the channelling of state resources, buttressed by a massive local bureaucracy of government agents and spies.
"These include the Local Councils (especially 1 and 2), and although they may appear insignificant, they in fact play a crucial role in governance in the country," Oloka-Onyango wrote in a paper after the 2011 elections.
After the 2016 elections, an election book published by the Centre for Basic Research said that 2016 witnessed the rule by law, and not rule of law. It said courts in Uganda have become a key instrument in the legitimisation process, with the regime propagandists asserting that since the Supreme court had spoken in the Amama Mbabazi presidential elections petition, then the election had been fully validated.
Centre for Basic Research added that the most recent polls showed that Uganda had transited to a multiparty political dispensation only in form. What pertains is not a multiparty system but, rather, a "post-Movement" maze in which individualisation takes a toll on citizens.
Francis Babu, former minister and MP for Kampala and senior member of the ruling party, said: "Our leaders are doing more divide and rule. People have lost trust in the leaders; doctors have lost trust; teachers have lost trust."