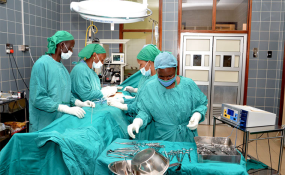 Photo: The Observer
By Abubaker Mayemba & Josephine Namuloki
Despite government saying it had deployed military doctors to fill the huge void at Mulago national referral hospital and its subsidiary branches, there was no sign of them yesterday as the medical workers' strike continued to bite across the country.
On Wednesday, Jane Ruth Aceng, the health minister, is reported to have revealed that doctors from the army, police and prisons would be pressed into service at Mulago to handle emergency cases.
She reportedly asked all striking doctors to leave the various hospital premises to allow government recruit new health practitioners willing to work under the current situation.
In an interview with The Observer yesterday, Dr Byarugaba Baterana, the executive director of Mulago hospital, said not a single military doctor had shown up.
He explained that while they welcomed support from the security agencies, they would only act as doctors, and not part of management.
"It's true that we will get doctors from the army and police but it's not true that when deployed here, they will take over the management of the hospital. What I know is that UPDF is a people's army and it's welcome to work with us. It's not true that the army is managing the hospitals," said Baterana.
He revealed that although the few doctors on call were concentrating on emergencies, the health practitioners would soon be handling all cases.
For Kiruddu in particular, Baterana said work was getting back to normal as doctors were now treating other ailments.
Baterana added that meetings held between Uganda Medical Association (UMA) and the health ministry had reached some consensus.
"What we have been discussing is good and within a few days everyone will be back to work. Come Monday next week, you will find all units operating as they should," he said.
In a brief phone interview, Brig Richard Karemire, the army spokesman, said yesterday that they would deploy 10 general doctors around Kampala and 20 nurses. He was also quick to add that the number wouldn't exceed that since they (UPDF) too have a small team.
"We are not yet there [Mulago]. They will be there when necessary logistics have been put in place. Some of them are coming from upcountry, we will provide them with some support to enable them do their work," said Karemire.
It is not clear how the government expects such a small number to take on work usually handled by hundreds of medics, including interns, in the crowded public hospitals. It was also not clear what plans were in store for hospitals outside the city.
Meanwhile, Frank Baine, the Uganda prisons spokesman, told the Uganda Radio Network news agency that before deploying their doctors, the prisons medical services department would first look at its human resource capacity.
Despite Baterana's optimism that doctors could be back to work on Monday, in a meeting with the Parliamentary Committee on Government Assurances, the doctors under their umbrella body, the Uganda Medical Association (UMA), maintained that they would continue with their strike despite the numerous engagements they have had with government.
Led by Prof Pauline Byakika-Kibwika, the UMA vice president, the health practitioners asked MPs to push government to uphold the promises that were made to them.
They told the committee chaired by Obongi MP Hassan Kaps Fungaroo that their decision to lay down their tools was a last resort following several unmet promises from government.
Byakika-Kibwika observed that all they needed was commitment from government that their salaries would be enhanced in a phased manner and requested that a supplementary budget be issued to that effect.
"If we go back to work when we don't have what to use, we are still going to be demotivated. We understand government is unable to handle the demands at once but some issues must be addressed before the strike is called off," she said.
"I personally run an infectious diseases unit but I don't have protective gear. I have over 50 patients on my ward and often times several doctors have become infected with TB, I am just lucky," she added.
Byakika-Kibwika pointed out that: "Our immediate demand is to have these supplies and equipment functional in the hospitals followed by sorting out the interns, the HSOs, the [State House] Health Monitoring Unit and the duty facilitation allowance."
Committee members promised to intervene.
"As a committee, we are more than determined, we shall meet each and everybody who we feel is a stumbling block in fulfillment of your concerns," Kawempe North MP Latif Ssebaggala said.
Dire situation
At Kiruddu hospital in Makindye, only a handful of nurses attended to patients in the emergency ward, the only section in the hospital still open.
The usually fully-packed seats at the reception on the first floor were empty, except for four people seen sitting. The pharmacy, antenatal and dental clinics were all locked and one of the administrators, a lady, was overheard chasing some patients who had come for treatment.
"Can't you see there is no activity going on here? There's no one to attend to you; so, kindly go back to the emergency ward where you came from because you might find someone there who will be able to help you," a female administrator said to patients.
One Gladys Nansubuga told The Observer that for the past three days, she failed to receive antenatal services at Kiruddu. She arrived yesterday morning in the hope that the promised army doctors would be on call, but to her surprise, she didn't seen any.
"Balimba, newankubade nazze kumakya nyo, silina musawo w'amagye gwennaalabye yenna. [They are lying, despite the fact that I came very early in the morning, there is no army doctor I have seen here," she said.
At Kawempe hospital, the situation was no less different as only the emergency unit was open with a few nurses attending to patients.
Clinics in the entire hospital were closed. Antenatal care services weren't being offered either, and nurses only helped women who were nearly giving birth.
abumay1988@gmail.com
namuloki16@gmail.com