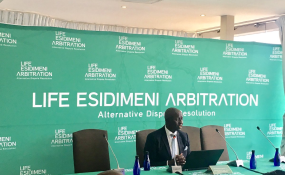 Photo: Gauteng Health Department
Despite having different diagnoses, former Life Esidimeni patients were all given the same medical treatment and minimal food at one facility, the arbitration hearing has heard on Thursday.
The hearings in Parktown, Johannesburg was established following the death of over 140 mentally ill patients after a rushed transfer of patients from Life Esidimeni to various unlicensed NGOs across the province in 2016.
Sibusiso Sikhakhane - whose brother, Mduduzi Sikhakhane, with bipolar mood disorder survived - testified that his brother grew aggressive, which saw him being moved to different institutions.
One of these were Rebafeng in Pretoria which, according to the health ombudsman's report, was not licensed.
'Marks on his neck and wrists'
"Mduduzi didn't like taking the medication. He told me, 'we are all drinking the same treatment and we are not all suffering the same condition'. He knew his medication.... During our second visit, he had marks on his neck and wrists and when we asked, they said it was because he was trying to fight with other patients," Sikhakhane recounted.
He testified that the facility looked as though it was still under construction, adding that goats and sheep were on the plot, the bathroom facilities were leaking and there was no hot water - resulting in patients not bathing or washing their clothes.
Sikhakhane said patients were severely underfed and this is something his brother complained about during a visit.
"While he [Mduduzi] was eating, other patients would hover around in an attempt to get food. Some asked us for money. He wasn't happy and he devoured the food, you could tell he hadn't eaten."
He testified that when his brother was transferred to Rebafeng, none of his medical files were handed over. His social grants card and ID book had also gone missing.
Sikhakhane testified that they had raised their concerns with the health department when the announcement was first made in 2016 about the transfers from Life Esidimeni.
"We were told it was costly to government as they were spending R10 000 per month per patient, hence the facility closing down. Another reason was that they wanted patients to be closer to home by having them in our communities."
Sikhakhane said that his brother was moved from a mental health clinic in Waverley, Germiston, to facilities in Lenasia, Hammanskraal, Krugersdorp and Pretoria, requiring his Soweto-based family to travel far to see him.
No epilepsy medication
Lilian Mpofu, whose grandson David Kgotso died in hospital after being transferred to Siyabadinga facility, said that her grandson was not given epilepsy medication and was served only two spoons of rice.
She said that no one informed her when her grandson's health kept deteriorating.
Sarah Mhlongo's son, 22-year-old Jabulani Mhlongo, suffered from severe mental retardation, epilepsy and asthma.
He had to wait seven to eight hours for medical attention after suffering continuous epileptic fits. Her son died while she was making her way from Mbombela to Mamelodi.
Never-ending questions
"They called me after he had passed on and told me to go check on him at [Mamelodi] hospital. They did not say that he is dead, they did not tell me his time of death. We always had questions about what happened to him," she said.
She testified that she had begged a social worker not to transfer her son to Siyabadinga facility.
All the witnesses said that they did not receive calls of condolences from the Department of Health, or any counseling.
When asked what kind of relief they sought, most said that they hoped that this tragedy would make the government improve conditions and service provision at all hospitals.
Former Gauteng health MEC Qedani Mahlangu is due to testify in late November.
The hearings continue on Monday.
Source: News24