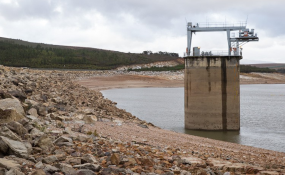 Photo: Ashraf Hendricks/GroundUp
analysis
Cape Town's dams are sitting at just over 36%. With the last 10% of water unsuitable for drinking, the city could be forced to turn off the taps next year if water consumption is not drastically reduced. In this worst-case scenario, projected to be reached on 13 May, residents could be forced to collect water at distribution points around the city. Cape Town Executive Mayor Patricia de Lille announced the City's disaster management plans in the event of "Day Zero" - the day the dams run dry. By LEILA DOUGAN & AYANDA CHARLIE for CHRONICLE.
"We have calculated that at 13.5% dam storage the City will turn off almost all taps. This (will be) Day Zero," Cape Town mayor Patricia de Lille said at a briefing held at a sports complex in Maitland, where a prototype distribution point was set up to demonstrate how water would be dispensed.
Using water from the current piped network, 200 distribution points would be put up across the city. Residents would be able to collect 25 litres of drinking water per person per day, which is in line with the World Health Organisation's recommendations of the minimum amount of water for people to maintain...