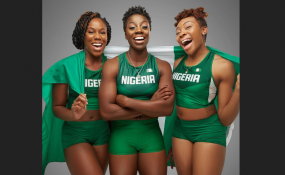 Photo: BSFNigeria/Instagram
The Nigerian women's bobsled team was celebrating on Friday after becoming the first from Africa to ever qualify for the Winter Olympics.
The Bobsled and Skeleton Federation of Nigeria posted a photograph on its Instagram account of the three-women team high-fiving one another with delight at making it to next year's games in Pyeongchang, South Korea and said: "Ecstatic to say the least."
"We are so proud of our Women's Bobsled team being eligible to qualify for the Winter Olympic Games," it added after they completed their last qualifying run in Calgary on Thursday.
The qualification of Nigeria -- where temperatures are currently upwards of 35 degress Celsius (95 degrees Fahrenheit) -- has inevitably drawn comparisons with Jamaica's participation in the 1988 Games in Calgary, Canada, which led to the 1993 Hollywood film "Cool Runnings".
Nigeria's team -- driver Seun Adigun and brakewomen Ngozi Onwumere and Akuoma Omeoga -- have done little to play down the comparison.
They crowd-funded the $150,000 (130,000 euros, £114,000) required to train and compete and through a mixture of savvy marketing and publicity have developed a strong online profile that has helped attract sponsorship from Visa and sportswear manufacturer Under Armour.
Reaction to their qualification in Nigeria was largely one of surprise, with many people unaware the football-mad country even had a bobsled team.
"I'm honestly not fully sure what a Bobsled team really is. But Go Nigeria!" wrote one user on Twitter.
The women, who were all born and grew up in the United States, have a background in athletics. Adigun, competed for Nigeria at the 2012 Olympics.
She told the BBC in April this year: "My goal is to get this team representation for this country (Nigeria) and this continent (Africa) at the Olympic Games...
"We are from a continent that would never imagine sliding down ice at 80 or 90 miles an hour (130-145 kilometres per hour).
"The idea of being able to take to that in itself is empowering."