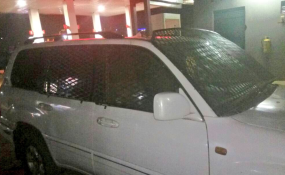 Photo: kizzabesigye/Twitter
opinion
By Andrew Mwenda
I have a frustration with President Yoweri Museveni's Uganda: even after 30 years of impressive economic growth rates, Uganda is still far from any significant transition from a backward rural agricultural society to a modern urban industrial economy. Nearly 80% of Ugandans still depend on agriculture for a livelihood and live in rural areas. Industry employs only 8% of our people while services employ 12%.
Because of investment in universal primary and secondary education and rapid expansion in access to tertiary education, especially university education, Uganda is producing large numbers of educated and increasingly urbanised youths who cannot find jobs. The limited capacity of our economy to foster structural transformation is largely because much of the growth has been driven by low productivity sectors like services.
Since 1986, growth in agriculture has been by increasing the number of hands holding a hoe and by putting more land under cultivation i.e. no productivity (output per unit factor input) growth. Manufacturing grew at a rate of 14.34% between 1986 and 2000. Between 2000 and 2015, it grew by 5.68%. From 2005 to 2015, it grew by 4.97%. Since 2012 it has averaged 4%. The main engine of growth since 2000 has been services averaging 7.2%.
Before opposition activists can jump onto this point to score political points against Museveni, I must add that this problem bedevils all African countries with the sole exception of Ethiopia. It has been occasioned by the influence of international financial institutions over public policy in Africa. And given the centrality of manufacturing to transformation, Uganda's (and Africa's) challenge is therefore how to stimulate this sector.
The advantages of manufacturing are obvious. It creates large scale jobs for the less skilled. So it has capacity to absorb hundreds of thousands of our youth graduating out of universal primary and secondary education. It has high potential for growth in labour productivity compared to services or agriculture. How does our country address this challenge?
The opposition in Uganda claim we need "good governance," a cliché that has become fashionable and involves fighting corruption, holding free and fair elections, building "effective institutions," respecting human rights, etc. This hotchpotch of ideas was started by the World Bank in its 1989 report titled Sub-Sahara Africa, From Crisis to Sustainable Growth. It has been peddled by Western academics and regurgitated by their politicians, diplomats and journalists. It has infected African elites and "intellectuals" involved in public debates like a plague.
Anyone who takes thinking seriously and cares to study the history of developed nations would easily see that what is called "good governance" is a consequence of development, not a cause of it.
If "good governance" was a precondition for transformation, the world would not be having a single developed country. The Western world transformed through a very brutal process involving slave trade, slavery, piracy, brigandage, genocide, colonialism, world wars, cruel labour practices, apartheid, etc. - what Karl Marx called "primitive accumulation of capital."
Africa's governance challenges are not new. They have endured 278 changes of government over 60 years. Every new government has come to power promising to solve them. Each one of them, with the possible exception of post genocide Rwanda, has governed and left power being accused of practicing them. Note: the factors that have allowed Rwanda to make this gigantic leap in governance are rare to find and difficult to recreate.
It is understandable that ambitious politicians like Kizza Besigye and Bobi Wine claim that somehow by sheer strength of their personality and political will they can change the way Uganda is governed. That is political sloganeering with little analytical value. It can appeal to the hordes on the streets but not anyone who cares to think. It is possible they say these things in earnest. But that is because they are ignorant or deluded or both.
Neither Besigye nor Bobi Wine has any demonstrable skills that can fundamentally alter the governance strategies of Uganda. Neither are they more patriotic than Museveni and his confederates. Precisely because these governance challenges have deep structural roots, they are quite obdurate with limited room for agency. Let us not forget that Museveni came to power promising "fundamental change" and has ruled by the slogan "no change."
Museveni appreciates the value of manufacturing. He has answered it by reorienting the budget: public spending has been shifted from consumption expenditure to investment in infrastructure - Standard Gauge Railway, dams, transmission and distribution lines, roads, expressways, airports, water treatment plants etc. - plus making a strong case for low electricity tariffs. These infrastructures are absolutely necessary but not sufficient to stimulate the necessary investment in manufacturing.
Transformative manufacturing projects require capital investments far in excess of what private capital in poor countries can marshal. And they have a long gestation period between the time investment is made and the time they become profitable. So we need the state in Uganda to play the role of investment banker by mobilising long term savings and making them available to finance long term investments at a cheaper cost.
The state needs also to play the role of surrogate entrepreneur by directly investing in sectors it considers strategic and then luring private capital with tax reliefs, cheap credits and subsidies to join.
For Uganda to do this, it will need to rethink its policy of controlling inflation below 5%. Investment in industry will require monetary expansion, which should shift our inflation target to about 20%. I will discuss who wins and who loses under a tight monetary policy of 5% inflation another day.
The second thing is to overcome Museveni's blind and often naïve faith in foreign investors. FDI is absolutely vital for growth by complimenting local efforts. But it will not foster our structural transformation. Uganda's industrial policy should aim to cultivate enterprising nationals to become the captains of our nascent manufacturing industry.
Yet for all their grand standing, Uganda's opposition is not concerned about these issues. Their exclusive focus on "good governance" only reflects their ignorance of the strategic challenges facing our country on the one hand and their obsessive greed for power on the other.
In spite of the aforementioned limitations of his strategy, Museveni has a much more developed vision of how to grow manufacturing.
His opponents demand that everyone should support them because they criticise Museveni's failures rather than because of any alternative vision or policies. If one does not capitulate to this demand, they use social media to intimidate, to blackmail and to falsely accuse. I will not yield to such.