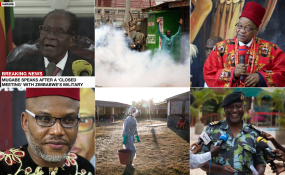 Photo: allafrica.com
By Africareview.com and Agencies
Kenya election verdict
The Supreme Court of Kenya delivers a verdict on the validity of the October 26 repeat presidential election.
Zimbabwe power ultimatum
Zimbabwe's ruling party Zanu-PF gives President Robert Mugabe until noon to resign as head of state or face impeachment to force a peaceful power transfer.
Pro-secessionist on trial
Nigeria's pro-Biafran separatist leader Nnamdi Kanu due in court in Abuja.
Joint military exercise
The Eastern Africa Standby Force (EASF) begins wide-ranging military exercises in eastern Sudan.
Malagasy varsities reopen
Learning resumes at the Madagascar state universities of Antananarivo and Toamasina after they were closed in October due to plague outbreak.
Algerian minister's tour
Algerian Foreign Affairs minister Ramtane Lamamra and the African Union's former commissioner for peace and security begins a four-day official visit to Madagascar.
Zuma removal conference
Party veterans of South Africa's ruling ANC who have been calling for President Jacob Zuma's removal continue to meet for a conference in Johannesburg.
Cameroon House reopens
The Cameroon National Assembly resumes business, four days after fire razed a significant portion of the administrative and financial section of the building, forcing authorities to suspend legislative activities.