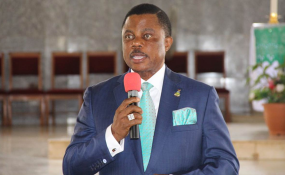 Photo: Premium Times
By Ronald Mutum
The Independent National Electoral Commission (INEC) says it has recorded another major feat on 19th November, when it announced the final results of the Anambra State Governorship and Idemili North State constituency elections barely 24 hours after the exercise.
A statement on the INEC website on Monday said months of careful preparations and synergy between the Commission and other critical stakeholders paid off when the polling units opened as scheduled on 18th November.
It stated that the initial fears of a possible breach, against the backdrop of the boycott order given by the Indigenous People of Biafra (IPOB) quickly disappeared with the presence of stern-looking security agents as voting got underway throughout the state.
A cross section of local and international observers, civil society organisations, religious leaders and voters commended the Commission over the proper conduct of the election. Security agents also attracted favourable comments from stakeholders.
The Commission said a record 37 political parties fielded candidates for the governorship election.
At the end of the final collation exercise held at the Commission's state headquarters in Awka, the Returning Officer, Professor Zana Apkagbu decalred the All Progressive Grand Alliance (APGA) winner with 234,071 votes, followed by the All Progressives Congress (APC) - 98, 752, Peoples Democratic Party (PDP) - 70,593 and the United Progressive Party (UPP) - 7,746 votes.