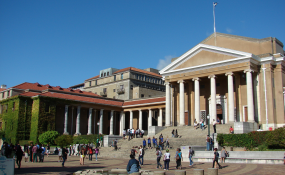 Photo: Ian Barbour/Flickr
analysis
Regardless of the shape tertiary education - and its funding - eventually take in South Africa, one thing is clear: the cost of low student throughput is a perennial problem. By MARELISE VAN DER MERWE.
With no real clarity on the future of tertiary education yet, one question is critical regardless: what happens to the students not graduating within the recommended time frames? And how will tertiary institutions address the funding shortfall exacerbated by slow student throughput?
Professor Thea de Wet, Director at the University of Johannesburg's Centre for Academic Technologies, says South African universities are losing millions when students drop out. A total of 1,650 first-year students dropping out in 2015 would have cost a university more than R75-million in lost revenue, she said.
Low throughput means that even if fees are taken care of, access can remain a problem. There are currently around a million higher education students in the system, 400,000 of whom are causing a bottleneck due to limited space and resources.
Former SA Statistician-General Pali Lehohla previously raised concerns that the low throughput rate is clogging up the tertiary education system. In a 2016 report, Statistics South Africa found that the country's universities were serving...