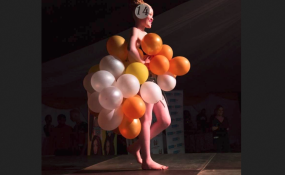 Photo: Miss Albinism Zimbabwe
By Yeukai Karengezeka-Chisepo
The much-anticipated inaugural Miss Albinism pageant that was scheduled for Friday night at Reps Theatre was cancelled at the eleventh hour due venue-related problems and will now be held on February 16 next year at the same place, organisers have said.
Many people were turned away at the venue as they only found out about the developments when they got there.
In an interview, event director Brenda Mudzimu said they were short-changed by the developments although they were ready for the pageant.
"Due to circumstances beyond our control, the executive members of Miss Albinism Zimbabwe regret to tell you that we have decided to postpone the event. We apologise for any inconvenience caused. In fact, venue owners gave us a new date at the last minute otherwise everything else was in place," she said.
She added that those that had bought tickets should keep them safe since they will be valied for the February show.
"Those that had already bought tickets should keep them as they will be used on the day. The ticket prices will remain unchanged."
Battling for the crown are 15 finalists drawn from different parts of the country.
The pageant is meant to fight against stigma towards people living with albinism and to prove to the world that people living with albinism can also do what the rest of the society members can do.
"I was inspired to come up with this pageant because I have great passion for mentoring and nurturing confidence among people living with albinism and to create opportunities for them. I strongly believe this helps to avoid social factors that may lead to stress and low self-esteem," she said.
The event was meant to run under the theme "Beauty Beyond the Skin".
"The theme aims to show and celebrate the beauty and intelligence that is beyond the skin. I am sure this will help change people's perceptions about us and accept us in society just like everyone else. I am so much interested in modelling because it's something that ushered me into establishing great dreams after I was crowned the first princess at Danhiko High School," she said.