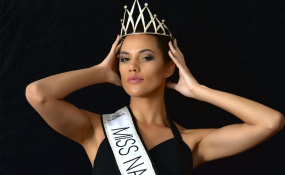 Photo: Miss Namibia
By Ocrhain Sampaya
Windhoek — Namibia's own stunning, flawless model and current Miss Namibia is on a mission to bring the crown home.
Sune January has left for Las Vegas, USA where she is vying for the Miss Universe title. The 66th edition of the pageant takes place this Saturday at The Axis at Planet Hollywood.
The show will be hosted by Steve Harvey and Ashley Graham, while Fergie and Rachel Platten will perform. Carson Kressley will join supermodel and pageant expert Lu Sierra at the commentary and analysis table throughout the telecast.
Contestants from 93 countries and territories are participating in this year's pageant, surpassing the previous record of 89 contestants in 2011 and 2012.
Since her arrival in Las Vegas, Sune's social media platform has been abuzz with posts featuring her with other intercontinental favourites, such as Zoey Ivory (Miss Netherlands).
Miss Universe is an annual international beauty pageant run by the Miss Universe Organisation along with Miss World and Miss Earth.
Miss Universe is also one of the most important and publicised beauty pageants and together with Miss International, the group of pageants is known as the Big Four. It is held in more than 190 countries worldwide and seen by more than half a billion people annually.