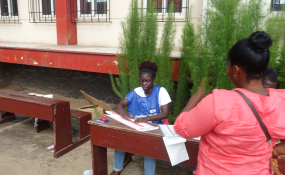 Photo: Boakai Fofana/AllAfrica
By P. Nas Mulbah
Unprofessional people were hired as election work to administer the October 10, 2017 presidential and legislative polls thus adversely affecting the quality of service and voting process, National Elections Commission (NEC) Executive Director Lamin Lighe said Saturday in Monrovia when he testified in the Liberty Party's vote fraud and irregularity complaint.
The placement of the unprofessional staffs into the process was due to the unavailability of the professional people willing to perform the role, Lighe said..
"Prior to the conduct of these elections, the Commission taking note from the voter registration where staffs hired by the Commission were challenged in carrying on their functions, we wrote other stakeholders just to name a few Ministry of Education, Association of Female Lawyers, Liberia National Bar Association requesting assistance in providing professional Liberians to help on election day.
"Unfortunately, the NEC got response from only the Angie Brooks Randolph Center and as the result of political manipulations there were rumors been spread wide and far that Chairman Jerome Korkoya had intended to fraud the process by bringing in presiding officers."
According to Lighe, to satisfy those doubts about the 300 professionals that were supported, the Commission withdrew them.
"So basically, we went to the polls with those Liberians who were available. They were probably not the most qualified but they were Liberians who availed themselves to partake in the October 10, elections."
The Executive Director stated that upon recruiting those staffs who were not professionals, monitoring reports showed that staffs of the Commission were challenged. They had difficulties directing voters to their assigned room, they had difficulties in identifying voters on the Final Voter Roll in their polling stations and as the result of that it cause some uncomfortable situations with some voters being waried about congestions and delay.
Mr. Lighe said although there were challenges, statements from all the independent observers have confirmed that the Elections of October 10, 2017 were free, fair and transparent, conducted in an atmosphere of peace, which allowed Liberians to turn out en mass to cast their votes.