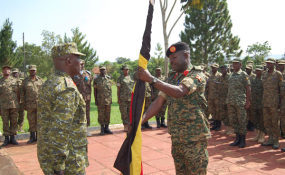 Photo: Denis Edema/Daily Monitor
By Denis Edema
Jinja — A 106-man contingent of Uganda Peoples Defence Forces, police and civilians has left for Sudan under the Joint Security Peace-keeping Exercise of East Africa Standby Force.
The team was flagged off on Monday by the Commandant of Uganda Rapid Deployment Capability Centre, Maj Gen Nakibus Lakara, at the Junior Command and Staff College in Jinja.
The officers will share intelligence gathering skills, fight counter terrorism in the region in order to promote stability.
According to Maj Gen Lakara, the exercise will expose the contingent to humanitarian crisis solving skills, counter terrorism and operation planning with the consideration of community involvement.
"Uganda is well known for good peace-keeping missions in Africa; therefore, I strongly urge you to go and promote defence diplomacy and avoid indulging in activities that would tarnish your country. Remember you're going to an Arab community," Maj Gen Lakara said.
He said without elaborating that four years ago, when the Ugandan contingent went to South Africa for the same exercise, they misbehaved.
"You are going to a place where the community does not entertain alcohol. So, if you have been drinking, you will not have the appetite because you will not find it there except in selected hotels," he said.
Maj Gen Lakara tasked Brig Michael Nyarwa, the contingent Commander who doubles as the Chief Evaluation Officer, to monitor the officers closely and not to entertain favouritism.
The departing Air Force Public Relations Officer, Capt Arthur Timbaganya, downplayed suggestions that the exercise was prompted by the recent visit of Mr Omar al-Bashir's, the president of Sudan, to Uganda.
He said: "There is nothing in particular of interest. This is rotational and Sudan was this year selected to host the exercise as a member of the East African Standby Force."