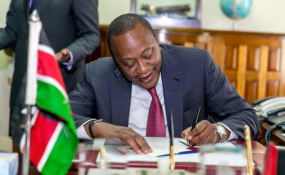 Photo: Daily Monitor
By Kennedy Kimanthi
Nairobi — Kenya's President Uhuru Kenyatta will be sworn-in for a second term next Tuesday after the Supreme Court upheld his election on October 26.
The preparations for the ceremony have began in earnest at the Safaricom Kasarani Stadium in Nairobi.
The swearing-in ceremony takes precedence and all other events slated to take place at the stadium have been cancelled.
Top security officials from different departments Monday visited the stadium to inspect the premises and plan for the swearing-in.
Military rehearsals are expected to start Tuesday, according to Mr Joseph Irungu, who is chairing the Assumption of the Office of President sub-committee on security, logistics and protocol.
"The committee is picking from where it left before the nullification of the first election. We expect about 100,000 visitors and invitations to heads of states have already been sent out by the Ministry of Foreign Affairs," Mr Irungu said.
Initial plans for swearing-in after the August 8 election were halted after the opposition Nasa coalition leader Raila Odinga challenged President Kenyatta's election.
While only 60,000 people can fit in the stadium, the planning committee also hopes to use the 2,500-seater Indoor Arena, and mount giant screens outside the stadium, but within the facility's compound for the thousands expected at the ceremony.
Some soldiers arrived at the stadium Monday evening, but Mr Irungu could not divulge any security details, only saying numbers would be increased.