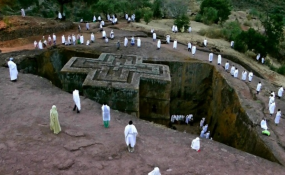 Photo: Ethiopian Herald
By Genet Fekade
The Ethiopian Orthodox church is calling the concerned bodies to save rock-hewn churches of Lalibela. The church is now working stressful with the concerned governmental offices to protect the churches from the expecting accident.
Priest Solomon Tolcha protecting heritages and tourism directorate director within the church said, because of the extra year staying on service of its shelter which the European union build before then years, the rock- hewn churches is now under the treat. And it is already decided to remove this shelter and the task will be done soon to protect. it needs about 800 million Ethiopian Birr.
Prepared by Ministry of culture and tourism, discussion was held soon to protect the heritage. Assessment which conducted by Ethiopian geologist and other foreigner experts was presented over the discussion and already decided to remove the shelter from the place.
The rock-hewn churches of Lalibela is one of ancient heritages of the Ethiopian Orthodox Church. It is the living heritage for more than 800 years on service without stacking. it is unusual heritage helps to show the history of architecture. westerns are very amazing on it and the moderns also cannot discover how build its structure, dissing and sanitary system.
According to Solomon, before two years the two churches of them Bete Rufael and Bete Gebriel ware got some difficulties based on rain and sun and they were stop giving service. But after they got a good maintenance they are giving their service effectively.
And now working by this experience to defend the all side of the churches. "Protecting Lalibela is save the nation. It is a big industry for the tourism sector and it is also worlds intangible heritages of UNESCO and we have to give attention" Solomon said.
Finally Solomon stressed that Ethiopian people is showing a big coordination on the grand renaissance dam and they are becoming success and the people will repeat it on this treat and he call concerned organizations like local and international medias, government bodies and other organizations to give attention.