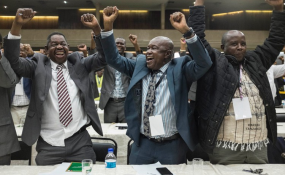 Photo: GroundUp
War veterans have approached the High Court seeking a declaratory order validating a coup staged by the army last week.
The move comes as the army continues to deny that it staged a coup claiming it was only short term operation aimed at removing "criminals around President Robert Mugabe".
Zimbabwe Liberation War Veterans Association says the Zimbabwe Defence Forces exercised their constitutional right as read in section 212 of the Constitution.
According to the court papers, it should be declared that the actions of the defence forces in intervening to stop the takeover of Mugabe's constitutional functions by those around him are constitutionally permissible and lawful in terms of section 212 of the constitution of Zimbabwe.
In the application, the war veterans are the applicant while Mugabe is the first respondent while the minister of defence and attorney general have been cited as the third and fourth respondents.
"It is not the job of the military to remove Mugabe out of power. There was a perception and accusation that the military had intervened to remove him from power, we as war veterans knew the truth, and this was also supported by SADC.
There was seizure of power and capture of power through the state house through the courtesy of a marriage certificate by the president and his wife. That should have been done by the police and intelligence but the two was infiltrated by the president and his wife.
When people took it to the streets, the same soldiers protected him (Mugabe) and up to now they are protecting him, the role of removing Mugabe lies in the political and diplomatic arena," war veterans' chairperson, Christopher Mutsvangwa, told journalists in Harare on Monday.
Mutsvangwa said it was wrong to allege coup plot because if it was not for the army, a civil war would have erupted.
"They had to intervene to arrest a situation which could have led to a serious breakdown of civil stability protected Mugabe when protestors went to state house on Saturday, but the army protected him."
According to him, the operation by the army was meant to clip First Lady Grace Mugabe's "overgrown wings."
"Mugabe was in dire dereliction of his duties, especially his wife she was making pronouncements on the judiciary and parliament when she doesn't exist in the constitution; she is clinically mad that woman," he said.
.