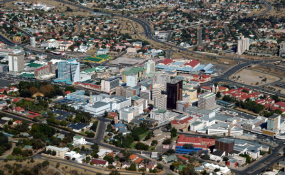 Photo: Brian McMorrow
By Charmaine Ngatjiheue, By Frederico Links
FITCH Ratings yesterday announced that it had downgraded Namibia to junk status, two weeks after finance minister Calle Schlettwein delivered his mid-year budget review.
Fitch's downgrade also comes just over three months after Moody's Investors Service junked Namibia in early August.
Fitch said its downgrade "reflects weaker-than-forecast fiscal outcomes and our projection that public debt-to-GDP will continue to rise over the medium term".
At the same time, Fitch mentions "a weaker-than-expected economic recovery and our view that medium-term growth has shifted to a lower gear" as additional concerns.
The ratings agency predicts that Namibia's GDP growth will decelerate to "0,8% in 2017 from 1,4% in 2016".
In its extensive statement on the downgrade, the ratings agency also points to the expected decline in transfers from the Southern African Customs Union (SACU) as an influential factor, along with Schlettwein's recent statements indicating that "fiscal consolidation was temporarily interrupted".
"The latest Medium Term Expenditure Framework (MTEF), published earlier in November, projects general government debt to grow to 44,2% in FY19, while it was forecast to decline to 37,7% in the previous MTEF," Fitch's statement reads.
Addressing the issue of Namibia's heavy public wage bill and government's attempts to juggle spending to meet all its obligations, Fitch expressed doubt that government would be able to meet such obligations and it projects "fiscal metrics to fall short of the government's revised targets".
As for Sacu, Fitch states its belief that "Sacu transfers will underperform official projections due to sagging growth in South Africa and Angola.
Further compounding depressed sentiment, Fitch states that "expansion of mining output has been slower than expected due to weak uranium prices, while the increase in the production of the Husab uranium mine to full capacity was further delayed".
On the whole, it concludes that "economic outlook through to the year 2019 remains lacklustre".
Fitch's statements largely mirror local economists' criticisms of government's handling of the economy and the state's finances.
Swapo instability
On the political front, Fitch states that the Swapo congress, which kicks off this week in Windhoek "is a source of policy uncertainty".
At the time it downgraded Namibia in August, Moody's also mentioned ructions within the ruling party as contributing to negative sentiment around Namibia.
However, Fitch states that it expected "the fiscal and growth-enhancing reform drive to gain momentum after the congress.
A government reshuffle seems likely, and we expect a new cabinet to initiate some major reforms - including the overhaul process of the SOE sector.
"We also expect the government to retract the most controversial provisions of the National Equitable Economic Empowerment [Framework] (Neeef) draft bill and the Namibia Investment Promotion Act (NIPA) and submit revised versions of the two bills to parliament in 2018. The controversial provisions of the Neee [sic] draft bill and NIPA underscore the lingering policy risks resulting from Namibia's high inequality, despite being likely to be withdrawn," the agency states.
However, while listing a litany of factors which could lead to further downgrades, Fitch finds that "Namibia's long-standing political stability and governance indicators are a major credit strength".
And unlike Moody's, which slapped Namibia with a negative outlook to accompany its August downgrade, Fitch has given the country a stable outlook which "reflects Fitch's assessment that upside and downside risks are broadly balanced".
Plummeting confidence
Commenting on the Fitch downgrade late yesterday, Economic Association of Namibia (EAN) director Klaus Schade said the downgrade was not unexpected after Schlettwein's mid-year budget review was tabled.
He also pointed to missed targets and increases in expenditure, which were not in line with previous statements.
Schade said Namibia now faced higher borrowing costs, especially on international markets.
"This could put a dent in the country's reputation as investors might not be confident in investing in the Namibian economy," Schade said.
He noted that the economy could still pick up growth, depending on Husab uranium mine going into full production, and thus spurring economic growth.
"Budget cuts were necessary, although now we should focus on addressing some of the structural issues. The public sector reforms need to start. There is need to invest more in infrastructure to attract other investments," he added.
University of Namibia dean of economics, Omu Kakujaha-Matundu said the Fitch downgrade reaffirmed Moody's assessment, and he also pointed to Schlettwein's mid-year budget review as putting the final nail in the downgrade coffin.
He said the mid-term review failed to instil any confidence in government's austerity measures or its consolidation efforts.
"This is a double blow, and my main concern is that borrowing costs will surge, especially when looking at foreign debt. With the weakening rand, it means our debt servicing costs would increase.
"We should not fight the rating agencies; instead, we should learn from the experience and put our house in order," Kakujaha-Matundu said.
He noted that despite the country facing significant headwinds, the economy would eventually pick up again. Cirrus Capital co-founder, Rowland Brown said the downgrade to junk had been expected since early 2016.
He stressed that the reasons for the downgrade were multi-fold, but largely stemmed from the deterioration in government's fiscal position, driven by aggressive expenditure increases, despite weak revenue collection.
"This has meant that government has had to borrow extensively to be able to fund its budget deficit, and has thus resulted in a more than doubling of debt over the past 30 months," Brown said.
He added that the immediate implications for Namibia would not be too dramatic, largely because changes to pension fund regulations were forcing large amounts of capital to stay in the country, much of which is being invested in government debt.
"In the short term, this will provide support to the now-junk-rated sovereign. However, over the longer term, the weaker rating is likely to see the cost of government funding increase, meaning more money will be spent on servicing debt and less will be available for other government projects and priorities.
"Further to this, the sub-investment grade rating is likely to negatively impact foreign investment flows into the country, which may well result in lower and slower growth over the coming years, something very negative for the employment outlook of the country," Brown said.