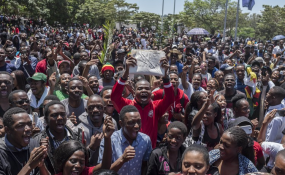 Photo: GroundUp
The Zimbabwe National Students Union (ZINASU) has accused the military of interfering with political processes with a view to influencing the political leadership.
Makomborero Haruzivishe, Zinasu secretary, said the military takeover last week was the second coup following the 2008 army intervention to save Mugabe from a lost election. As such, he said, the army cannot be trusted to deliver.
"We welcome that Mugabe must go but we are not naïve to say Mugabe going without dealing with the system will solve the problems," he said this Monday at a press conference in Harare.
"This is the same system that has been the backbone of his dictatorship, which defended him when he lost resoundingly to opposition. They should not define our future and who takes after Mugabe. They should let the people choose."
The students are proposing a transitional arrangement which will be constituted by key people from all sectors. They said politicians are more worried about "entrenching their political interests".
The political history of Zimbabwe has been characterised by serious students' activism to the extent the ruling party youths saw it fit to create a counter organisation called Zicosu.
Haruzivishe said Zinasu had agreed to declare a state of emergency owing to the national disruption of academic sessions and exams because of the coup.
"There is an air of confusion. After consultation with the councils in various institutions like Great Zimbabwe where there is a demonstration today same with UZ, we have agreed to declare a state of emergency in tertiary institutions," he said.
"We cannot let this rot to continue because of Robert Mugabe. He has to go so we access our education in peace. Students have struggled to pay fees, now they are missing out on education because of a selfish man who has robbed us of the future. We declare that all activities stop so we pursue one big goal to ensure Mugabe must go."
Students have been struggling to pay fees resulting in thousands dropping out of in a country were two thirds of the population is living in poverty. Government scrapped student grants years ago.