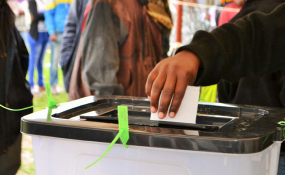 Photo: Capital FM
By Gerald Bwisa
A High Court judge presiding over a petition filed by two voters in Trans Nzoia contesting Governor Patrick Khaemba's win in the August 8 polls has revealed that there has been acts of threats and bribery attempts by unknown individuals.
Justice Anthony Mrima warned both parties and counsels in the petition case that he will not be intimidated by anybody and that he will decide the case according to the law.
"I have noted that there has been acts of threats on court. I have been threatened and even written letters," said Justice Mrima.
Justice Mrima, without mentioning names added that there has been concerted attempts to bribe him in order to rule in favour of one party.
"My message is very clear and let it go down to everybody I will decide this case on the basis of Law and evidence and I will not be intimidated by anybody," he warned.
PETITION
The two voters, Robinson Simiyu Mwanga and Alpha Kitazi Chore filed a petition on October 9 challenging governor Khaemba's victory.
The two felt that the Jubilee gubernatorial candidate Maurice Bisau's votes were stolen in favour of Governor Khaemba.
Khaemba of Ford Kenya garnered 135, 345 votes while Bisau garnered 92, 561 votes.
In the seating, Mr Wanyonge Wanyama, counsel representing Khaemba opposed the the application filed by Mureithi Gitonga representing the two voters to scrutinize the ballot boxes and recount of votes.
Justice Mrima will make a ruling on December 7 at 9 am.
Last week, Siaya High Court Judge Esther Maina vowed not to bend the law and give an unfair ruling in the election petition challenging the victory of Governor Cornel Rasanga.
Justice Maina warned anyone who might attempt to bribe her to rule in their favour in the case filed by former Rarieda MP Nicholas Gumbo of dire consequences.