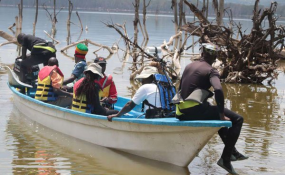 Photo: Ayub Muiyuro/The Nation
By Magdalene Wanja
The search for two bodies still missing from the Lake Nakuru chopper crash entered its 31st day Tuesday as funeral arrangements for one of the victims Veronica Muthoni got underway.
The funeral has been scheduled for Saturday with Bahati MP promising to give financial support for a descent send off.
The families of the two missing victims had to brave a new month of anxiety as the divers got into the waters with hope of finding the bodies.
A day after the wreckage of the copter was towed to the shores of the lake after a month long search, families and friends who gathered at the lake remained hopeful.
As the team of divers resumed searching for the two remaining bodies they continued to face challenges in the operation.
ILLNESS
Some divers suffered from sanitation related illnesses such as typhoid.
"I was diagnosed with typhoid a few days ago and I have been on medication," said Musa Sila, one of the divers under the Sonko Rescue team.
Another diver was rushed to hospital on Monday morning after he fell ill while on duty.
"Despite the challenges, we have been working hard to ensure that we complete the mission for the sake of the families of the victims," said Mr Sila.
The team leading the operation insisted that the operation will continue even as the main fuselage of the chopper was retrieved from the lake on Sunday.
"We shall not leave the site until the day we will find the remaining bodies," said National Disaster Operation Centre desk officer Jonathan Kertich.
So far three bodies belonging to the pilot Captain Apollo Malowa, Anthony Kipyegon and Veronica Muthoni have been recovered.
Mr Kertich confirmed that some clothes and door of the chopper were found on Monday evening.
"The clothes were unisex and can't tell clearly who they belong to. The items were found at the exact place where the chopper wreckage was recovered," said Mr Kertich.
However some sources said the clothes were identified as those of Sam Gitau , whose body is still missing.