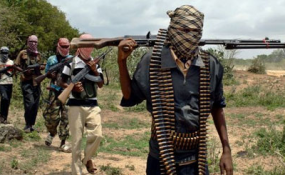 Photo: Capital FM News
interview
Somali President Mohamed Abdullahi Farmajo recently announced a war against al-Shabab and urged the country's federal member states to join the war. For their part, the regional administrations leaders have promised support for the war announced by the President.
Ahlu Sunnah Wal Jama'a , a Somali moderate Islamist group, has vowed to join the war. The group's defence secretary, Sheikh Hussein Isaq Mursal Gesa Dhere, in an interview with Radio Dalsan, said his group will continue fighting until al-Shabab is no more.
" My brother, as you know, the country is generally preparing for an offensive aimed at eradicating this group, al-Shabab, which is posing menace to Somalia and to the Horn of Africa region in general, so, God willing, we hope to accomplish this task since the President announced an all-out war against the group."Said Dhere
In response to the President's call to Somalis of all walks of life to wage war against al-Shabab, Ahlu Sunnah wal Jama'a, has already been engaged in such a war with this group but it is now ready to scale it up in order to put the group's threats to an end; this group that is literally massacring our mothers and our children. We have to put its menace to an end and save our people from these men. What they are doing is indeed unacceptable and Ahlu Sunnah cannot sit back and watch as they butcher our people.
[ Radio Dalsan reporter] Okay. I get you well but what is your role in the ongoing military campaign against al-Shabab?
[Dhere]: As I said earlier and I repeat it; we have been in war with al-Shabab for a long time and we will continue doing so until al-Shabab is no more in this country. Having said that, let me also take this opportunity and tell fellow Somalis to heed the President's call and confront those killing our mothers and fathers; this brutal group that has invaded our country. Every Somali citizen is duty-bound to heed the head of state's call.
[Reporter] Sheikh Isaq, we know Ahlu Sunnah forces in the southern regions particularly in Gedo region have dispersed and you are now announcing your group's readiness to join the war, that is fine, but where are your forces?
[Dhere] That is baseless; it is what the Kharijites say. The truth is that our defence lines still exist. You know our forces are in control of Bardhere district and if it were not for our forces, the town would have fallen in al-Shabab hands, therefore, what you are saying is completely unfounded; it is sheer propaganda aimed at demoralising the public.
However, you will see us in action soon, God willing.
[Reporter] Where exactly are your forces now operating?
[Dhere] Well, we operate in Gedo, Bay, and Bakol regions in particular and the entire country in general.
[Reporter] Recently, there have been reports indicating that you are facing financial crisis and unable to pay your debts, so how do you manage to maintain such large forces; do you have other sources of support?
[Dhere] We are in agreement with the President Farmajo-led government and from now onward, our forces are going to be nationalised. The important thing is to have a functioning Somali state, therefore, sticking to one position is no longer viable. Ahlu Sunnah's sole interest is to retain its name because this name represents the Somali people who are predominantly Sunni Muslims.