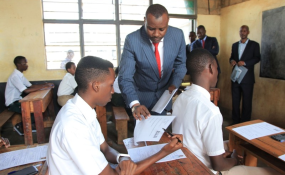 Photo: Sam Ngendahimana/New Times
By Jean d'Amour Mbonyinshuti
Ordinary and Advanced Level national examinations started across Rwanda Tuesday morning, with officials reporting that the exercise kicked off smoothly.
The State Minister for primary and secondary education, Isaac Munyakazi, launched the exams at GS Remera in Kigali.
In total, 142,305 candidates are sitting secondary school exams this year, representing a 6 per cent increase from last year.
Females are dominating in both levels.
O'Level candidates are 98,268, up from 91,492, an increase of 8 per cent. Of these, female candidates are 53,618.
A'Level candidates are 44,037 - including 23,536 females - compared to 41,719 last year.
There are 858 examination centres countrywide.
Exams will be concluded on December 1.
O'Level (Senior Three) students started with mathematics and will sit 11 papers, while A'Level (Senior Six) candidates will sit 15 papers.
Teachers Training Centres candidates will sit 20 exams.
Meanwhile, Technical and Vocational Education and Training (TVET) candidates also started national theory exams today.
TVET candidates have already completed national practical examinations.
The minister said the exams were well organised, adding there were no incidents during preparations, training of invigilators, as well as transportation and distribution of examination papers to exams centres across the country.
"Students were also thoroughly prepared," he added, challenging the candidates to do their best during the exams to make their parents and teachers proud.
The minister said the increase in the number of candidates was an indication that more students were now completing high school.
"For those in O'Level you'll need to do well to proceed to A' Level. You all have to study up to university and contribute to the development of the country," he told about 400 candidates who sat the exams at the centre.