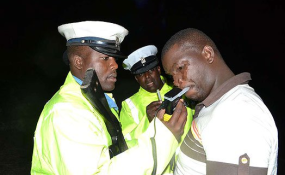 Photo: Nairobi News
By Evelyne Musambi
Kenyans have welcomed a proposal by the road safety authority to amend traffic laws and have drunk drivers work in mortuaries for hours as punishment.
Drunk driving has been blamed for majority of road accidents in Kenya and the pronouncement by NTSA Director General Francis Meja that the current penalty is lenient has won praise among Kenyans.
Mr Meja told Standard newspaper; "We cannot have notorious drunk drivers causing accidents yet when they appear in court the penalty is very lenient. Once we have the new policy ready then we shall ensure it becomes law."
Kenyans online welcomed the proposed policy saying it will make drivers more careful in their behaviours while on the road.
In fact drunk drivers should be made to clean up dead bodies and given the worst of tasks at the morgue.. Fully support that move!
- Vionna (@Kurlycheeks) November 21, 2017
I can assure NTSA that if they arrest drunk drivers, drive them to City mortuary, lock them in there till morning, drunk driving would reduce by 99% in 2 weeks.
- Intellect Mogul (@GicheruGicheru) November 21, 2017
NTSA wants drunk drivers to work in the morgue as a punishment. 😂 😂 implement immediately
- Lonyarai 🇰🇪 (@Gichy_) November 21, 2017
BREAKING' Drunk drivers to work in mortuary ! They should also include reckless drivers or six strokes hapo hapo hapo!! Hehe I like it...
- Ronald Sure (@RonaldSure) November 21, 2017
Drunk drivers always say "gari inajua njia" then go all feet deep on the gas. Now @ntsa_kenya formulates that drunk drivers to work on morgues.
I've been to public morgues on several occasions & scene of bodies esp from accident scenes will work your spine. pic.twitter.com/mPTTen6Fax
- Kenya West© (@KinyanBoy) November 21, 2017