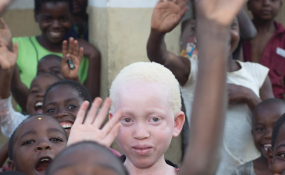 Photo: Amnesty
By Mmoniemang Motsamai
Gaborone — Problems facing people with albinism continue to bedevil many countries across Africa and Botswana is not an exception.
Albinism is a genetically inherited condition characterised by a deficit in melanin production that leaves people in a condition of pale skin, usually light, sometimes reddish eyes and blond hair.
Chairperson of Albinism Society of Botswana, Mr Sergeant Kgosietsile said in an interview that attitudes of acceptance and inclusion were still major issues surrounding their conditions.
It is against this backdrop that the Albinism Society of Botswana will hold a countrywide albinism awareness campaign to reduce stigma experienced by people with albinism, fight for their rights and address social challenges they are often faced with.
The campaign also hopes to de-mystify albinism and educate the public about the condition.
Mr Kgosietsiele believes people with albinism should enjoy all rights and all the possibilities that lead to a meaningful life like anybody else, be it on a professional level or in private and family life.
"The majority of people with albinism are desperately poor and isolated from mainstream community activities and lack the most basic needs that are enjoyed by other PLWDs," he said.
He complained that the delay by government to ratify the decade old United Nation's Convention on the Rights of Persons with Disabilities (CRPD) was making matters worse.
"The review of the 1996 National Disability Policy is yet to be decided by Parliament and it has taken long," he said.
Mr Kgosietsile, who is also councillor for Marulamantsi Ward in Gaborone, said the policy could assist in providing a conducive environment for people with albinism.
He said recognising that albinism as a disability and incorporating their needs into the National Disability Policy would assist in promoting, protecting and ensuring the full and equal enjoyment of all human rights and fundamental freedoms by people with albinism as well as respect for their condition.
"We want to reclaim our rightful place in the mainstream society as productive members of the society, and hopefully the stigma associated with albinism will dissipate," he said.
Although government extends certain specific services to people with albinism such as provision of sunscreen cream through the Ministry of Health and Wellness, Mr Kgosietsile said a lot still needed to be done to ensure protection of their members as their life expectancy was in most cases shortened by skin cancer.
Meanwhile, coordinator for People Living With Disabilities at the Office of President, Mr Thomas Motingwa said in an interview that a breakthrough had been made with regards to drafting of National Disability Policy that is yet to be presented to Parliament and hopefully guide government on issues pertaining to all forms of disabilities.
He said currently the 1996 policy was not covering all issues and problems faced by people living with disabilities, starting with infants to the elderly, which he hoped would be included in the reviewed draft policy.
"Currently we have no general data and mitigating on some of the issues that affect all people living with disability," he said.
He however refuted allegations that people with albinism were assisted out of pity, adding that the coordinating office had been set up within the Office of the President to implement policies, strategies and programmes to mainstream PLWDs into development agenda and to empower them all, irrespective of their form of disabilities.
"We are working towards synchronising the conditions of all PLWDs so that we can advocate for them with confidence, analyse and provide intelligent information with regards to their plight," he said.
Mr Motingwa also said the country was working towards ensuring ratification of the United Nation's Convention on the Rights of PLWDs.
Source : BOPA